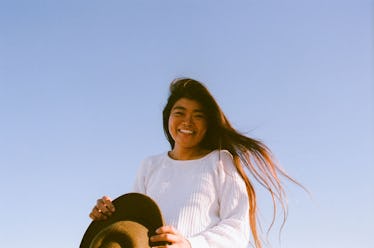 3 New Year's Resolutions to Live Your Best Dating Life in 2019
If 2018 put your love life through the ringer, Jan. 1, 2019 is the perfect time to smash the "reset" button on all things sex and dating in your life. What's the best way to go about accomplishing this? Add some 2019 New Year's resolutions for dating to your list.
If you're Team Single and planning on remaining so in 2019, you have every right to pour the sparkling energy of a new year into yourself. Take yourself on dates! Set aside time and figure out what you truly desire from romantic relationships. Get back to the friendships you may or may not have been neglecting, back when you were drunk in love a few weeks or months or years ago.
For those of us continuing the chase in 2019, be sure to come equipped with everything you need to make this the happiest year of dating yet. If exercise is what you need to feel good going into 2019, find a partner-in-crime and take it easy on yourself. Commit to that beauty sleep. But spoiler alert: The biggest changes you should make this year are trying new things, putting yourself first, and putting f*ckboys (of all genders) last. Here are some ideas for your toolbox if you want to live your best dating life in 2019.