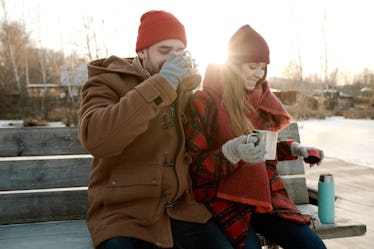 6 Affordable Winter Date Ideas That Are Super Festive, But Won't Break The Bank
In the summer, dates are easy breezy to plan — and often cheap, to boot. The warm weather can oftentimes allow you to be more carefree and spontaneous, and planning a date can be as simple as packing a picnic dinner to eat in the park, taking a scenic bike ride, or catching a free outdoor concert. As it gets colder, however, you go into #hibernationmode, and let's be honest, since you blew so much on holiday presents, you're slightly broke. Basically, you're strapped for affordable winter date ideas that are both realistic and romantic.
I totally get it. When the temperatures plummet and your checking account balance is too terrifying to look at, planning a date night is far more challenging. Suddenly, your couch, a pair of old leggings, and a Netflix marathon are looking pretty ideal. But all it takes is a little creativity to come up with a fun way to bond with your boo — and one that won't break the bank. Think: a dose of childhood nostalgia via a sledding expedition, or a chili cook-off. The best part? You don't even have to leave your home for some of them. Here are some wallet-friendly date ideas to keep that spark alive during the colder months.