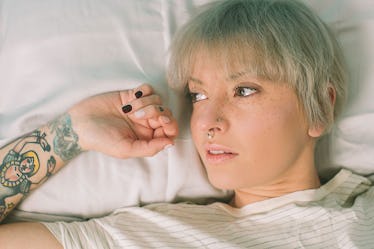 Stick To These 8 New Year's Resolutions If You Want To Sleep Like A Baby In 2019
The holidays are full of lists — wishlists, to-do lists, shopping lists. If I had to narrow it down to only one that I felt was absolutely necessary to write out and check twice, though, it would have to be my New Year's resolutions. Hear me out: How much of 2018 did you spend fine-tuning your self-care? Because, listen, I get it: The past 365 days were a lot, and time somehow always feels limited. But 2019 should be about making positive changes, and setting wellness goals — like New Year's resolutions for better sleep, for example — that you'll actually keep. It's not selfish to spend a little extra time reviewing your strategies to achieve them, either. As far as I'm concerned, it's kind of necessary.
According to a YouGov poll from December 2017, the top three most common New Year's resolutions going into 2018 were to eat healthier, get more exercise, and save more money. Self-care came in fourth on the list, with a focus on getting more sleep — which, at least IMO, is pretty surprising when you consider one in every three adults in the United States doesn't get enough sleep, as per a Centers for Disease Control and Prevention press release. Going off that statistic alone, wouldn't you think more people would be making a greater effort to clock in the seven to nine hours of snooze time the National Sleep Foundation recommends?
Well, 2019 is going to be the year you sleep like you've never slept before, friends. To help get you there, I reached out to a few experts in the space to offer their best tips for making New Year's resolutions for better sleep that'll actually stick.