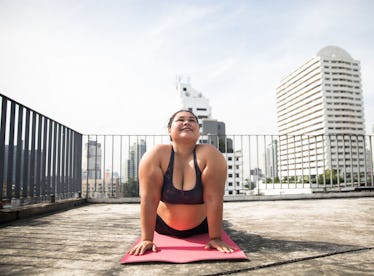 Here's How To Keep Your Fitness New Year's Resolutions Without Being Hard On Yourself
For 2019, I'm doing my New Year's resolutions a little differently. In the past, I've fallen into the all-too-familiar trap of burning out of my workout resolutions within the first few months of the new year. The first time I'm hit with a nasty cold, or can't seem to escape the lure of my latest Netflix obsession, my carefully planned fitness schedule goes out the window, along with my motivation. This year, though, I'm putting a positive spin on things. If prioritizing exercise is one of your goals for 2019, figuring out how to keep your fitness New Year's resolutions without being hard on yourself isn't as difficult as you might think.
Generally speaking, the key to keeping up with your resolutions, says Evan Renfroe, a certified personal trainer and nutrition specialist, is finding a balance between knowing what your end goal is, and being kind to yourself along the way. "I personally love the idea of viewing the process like an 'old school' lantern," he tells Elite Daily in an email. "The light is only sufficient to illuminate the next couple steps, so we're following the light of the lantern to guide those steps. Also, we need a direction to go that is aligned with the intended destination."
In other words, straying a few steps away from your goal, no matter what it is, isn't the end of the world, because you can always regroup and adjust accordingly at any point in time. So remember to be patient with your fitness journey throughout the new year, and keep these five things in mind as you work toward your goals.