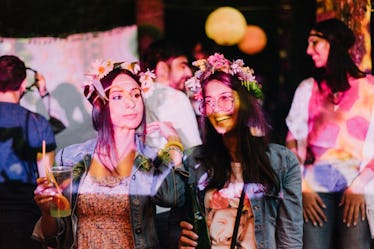 29 Captions For Your Half Birthday, Because Life's A Party
Life's a party, especially when it's your half birthday. You break out the cupcake recipes and invest in some streamers. There are at least another six months until you celebrate your actual big day, and that just seems way too long. Sure, you won't make this event quite as much of a fuss. You'll send out E-cards for invitations and maybe have a fun night out on the town instead of planning a getaway with your girl crew. No matter what you do, you'll likely post at least one picture on social media with your party people. These captions for your half birthday will be the icing on top of the cake. There is going to be cake, right?
You and your crew are always looking for reasons to celebrate. You're the kind of people who channel Leslie Knope's spirit and create unique holidays like Eat Ice Cream For Breakfast Day, just so you have an excuse to pop a bottle of champagne. You'll toast to little things like not spilling your coffee on a Monday morning, and making it to brunch on time for once.
Truth is, once you get to a certain age, you may tend to only celebrate the "big" birthdays. These are the ones that fall on decade marks, and leave your friends to planning a surprise adult slumber party in your honor. You could stick to this tradition, or you could throw more important dates onto the calendar. Your half birthday can be just as sweet as your usual one, assuming you post it on social media. The world wants to channel your fun and festivities, and one of these 29 captions will help your picture truly take the cake.
1. "Life is a party, dress like it." — Audrey Hepburn
2. "This is where the fun stuff happens." — Unknown
3. "Let's get this party started." — Unknown
4. "Bring on the night." — Unknown
5. "Have fun, even if it's not the same kind of fun everyone else is having." — C.S. Lewis
6. "Never miss a chance to dance." — Unknown
7. "Follow the call of the disco ball." — Unknown
8. "Add a little confetti to each day." — Unknown
9. "I eat cake because it's somebody's birthday somewhere." — Unknown
10. "You are only young once." — Unknown
11. "Enjoy the little things." — Unknown
12. "Sassy since birth." — Unknown
13. "Life is short, wear your party pants." — Unknown
14. "She's bright like glitter, and bubbly like champagne." — Unknown
15. "You can't handle all this sparkle." — Unknown
16. "Turn[ed] my birthday into a lifestyle." — Drake, "Pop Style"
17. "A bunch of half-birthday love." — Unknown
18. "Start the day with a smile, and end it with champagne." — Unknown
19. "Life should not only be lived, it should be celebrated." — Osho
20. "Sip, sip, hooray!" — Unknown
21. "Hugs, kisses, and a lot of half-birthday wishes." — Unknown
22. "Make your own magic." — Unknown
23. "Enjoy life. Eat cake." — Unknown
24. "She had a cocktail in her hand, and confetti in her hair." — Unknown
25. "A party without cake is just a meeting." — Julia Child
26. "Wine not?" — Unknown
27. "Let's pop bottles." — Unknown
28. "Life is a party, once you realize it is." — Unknown
29. "Start your day with a dance party." — Unknown
Your half birthday gives you a reason to celebrate something with your people, but also a picture to post on the 'Gram. You're always looking for new inspiration for your Instagram feed, and leave it to a sparkly dress and blowing out some candles to give you the #content you need. With your besties by your side, it's bound to be a good time and an event worth celebrating every single year.