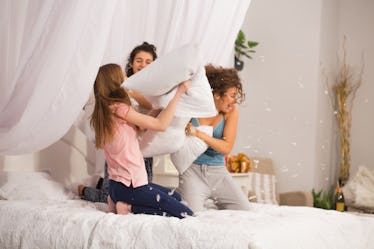 7 Kick-ass Ideas For An Adult Sleepover Party, Because We're Never To Old For Them
Svyatoslav Lypynskyy/Fotolia
You're never to old to have a sleepover. Sure, you're sort of a part of this real world place now, but you wouldn't turn down a pillow fight. At the end of a long week, sometimes staying in with your girls is all you really want on a Saturday night — and having an adult slumber party seems oh-so-ideal. You'll watch all your favorite movies, maybe do a facial with your friends, and talk for hours about everything you've missed while you've been away at work. As the host, you know you need unreal snacks, but there's a lot of other adult sleepover party ideas that will seriously upgrade snuggling up with your squad.
Maybe you've already had a bunch of wine nights with your ladies, so you sort of know the drill. Sure, sleepovers are kind of the same, but don't just settle for slices of cheese and a bottle of something sparkly. You have the opportunity to make this a night in to remember, starting with the soundtrack you play all night and ending with the mimosas you make in the morning.
Adulting can be draining, but your friends are ready to rally for something extra fun. The best ideas for adult sleepovers will have you dancing until dawn and making memories every minute. If you're unsure of where to start, I've rounded up a few things you might want to do.