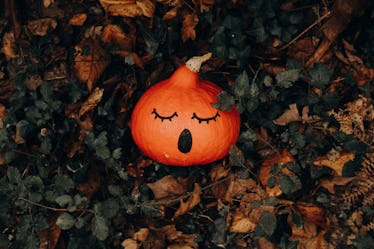 20 "Monster Mash" Lyrics For Insta Pics Of You Creepin' It Real On The Dance Floor
Can all the monsters out there please stand up? I'm not just talking about the girls dressed up as goblins for the spookiest night of the year. No, I'm asking for anyone who's looking to creep it real on the dance floor and get a few pictures for their feed. These are the ghosts, witches, and werewolves who love to break it down, and bring it around Halloweentown. They're the first ones to get on their feet and pull everyone else into the party. They're also the last ones to leave, likely well-past midnight. Does this sound like you? Well, then you absolutely need some "Monster Mash" lyrics for Instagram. Getting a picture or video of your boo-tiful dance moves is a must.
Back in the day, you boogied up to your neighbors' doors with your siblings by your side. You always came up with a group costume and pulled it off together. One year you went as football players, and the next you were the iconic characters from Harry Potter. Then there was the year you needed some ideas at the last-minute, and just ended up going as a bunch of ghosts.
You raced up to the doorbell in hopes that your newfound speed would result in only the best candy bars. Your older brother dug around for the Kit-Kats, while you took the Reese's cups laying on top. Once you got back to your house, you organized all of your treats on the kitchen table, and probably did some trading.
Nowadays, your scene on Halloween is a little bit different. You dress up like memes and your favorite moments in popular culture, and host a party of your own. Naturally, the punch is bright red, the snacks are covered in cinnamon, and the Pumpkin Spice Lattes (which you made from scratch) are set to slay.
When everybody arrives, you throw only the spookiest jams into your stereo — which basically means Bobby Pickett's "Monster Mash" on repeat for hours on end. Within the first few beats, everybody's on the dance floor singing along. You're not sure when you learned the lyrics, but somehow you don't miss a single word.
Turn your favorite song for this time of the year into one of these 20 Instagram captions, and your followers will be getting festive, too.
1. "It was a graveyard smash."
2. "My eyes beheld an eerie sight."
3. "It caught on in a flash."
4. "The zombies were having fun. The party had just begun."
5. "The scene was rockin', all were digging the sounds."
6. "Whatever happened to my Transylvania twist?"
7. "Now everything's cool, Drac's a part of the band."
8. "The ghouls all came from their humble abodes."
9. "When you get to my door, tell them Boris sent you."
10. "For you, the living, this mash was meant, too."
11. "Suddenly to my surprise."
12. "It's now the mash."
13. "Get a jolt from my electrodes."
14. "Out from his coffin, Drac's voice did ring."
15. "I was working in the lab, late one night."
16. "Seems he was troubled by just one thing."
17. "Where the vampires feast."
18. "The guests included Wolfman, Dracula, and his son."
19. "Then you can mash, then you can monster mash."
20. "And my monster mash is the hit of the land."
The only question now is: Is the "Monster Mash" stuck in your head? It's truly so catchy, which is why all of your best friends are already breaking it down on the dance floor.
You pull out your polaroid camera, and grab a few shots of their moves. One of your besties is shimmying her shoulders, and the other is bopping her head to the beat. Throughout the night, this camera gets passed around, and somebody gets a few pictures of you creepin' it real, too. Now, don't let those go to waste! Post them on social media with a lyric that's inspired by "The Mash." Your followers will appreciate it, and want to bop along, too.