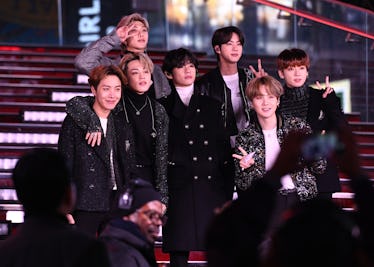 20 BTS Tattoo Ideas For ARMYs Who Need Inspiration
Noam Galai/Getty Images Entertainment/Getty Images
The ARMY has a variety of ways to express their appreciation for BTS. Retweeting BTS' posts and streaming their music is part of fans' everyday routines, but there are a handful of ARMYs that go the extra mile by creating fan art, edits, dance covers, and more. Not to mention, there's also fans who get BTS-inspired tattoos to forever mark their love for BTS on their skin. If you're looking to do the same, but need some inspiration before taking the plunge, here are 20 BTS tattoo ideas from ARMYs all over the world.
BTS and their ARMY truly have a special bond that's unbreakable. To show much they care about each other, they use the phrase "I purple you." The saying was dubbed by V, who explained it means "I will trust and love you for a long time." BTS often uses the phrase during their concerts, as well as whenever they win an award and want to show their thanks to ARMYs.
While words can go a long way, tattoos can also be used to symbolize fans' love for BTS. BTS certainly doesn't expect fans to go out and get tattoos to show their love for the band (just supporting them whole heartedly is enough), but if a BTS-inspired tattoo has been on your mind, you'll want to take into consideration what image or words you want inked. To help you on your search, here are some BTS-inspired designs to give you inspiration.