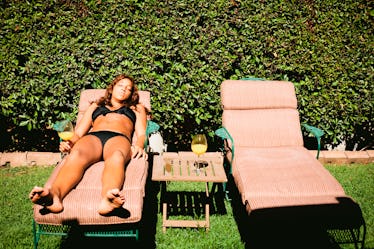 20 Backyard Birthday Ideas For Cancers That'll Help You Squeeze The Day
Image Source/Matt Hoover Photo/Image Source/Getty Images
Each year, your best friends ask you how you'd like to celebrate your birthday, Cancer. You probably suggest going out for an intimate dinner or sitting poolside and reading your favorite fashion magazines. Keeping it low-key is your jam, so any backyard birthday ideas for Cancers instantly speak to your soul. They spark your love for staying home, where you're typically surrounded by the people you care about, and your desire to put on the comfiest outfit in your closet to kick off your next lap around the sun.
Not to mention, these backyard birthday ideas are incredibly easy to put together and won't cause you much stress before the day of. They'll let you wake up that morning and decide what you want to do, or make the most of the s'mores sticks and hammock in your garage. If you want to spend your day with your feet up, sipping on drinks and playing with your dog in a kiddie pool, these ideas also factor that in.
They check off all the boxes under the category "The Most Ideal Day For A Cancer," and let you soak up the sun. They put all the most delicious meals and meaningful experiences on your schedule, too.