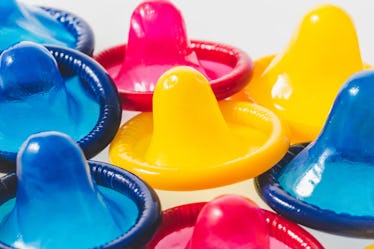 2 Gynecologists Reveal The Top Questions They Get About Condoms
There's a lot we already know about condoms. For one, they're one of the most affordable, accessible forms of contraception. And with so many different varieties to choose from in a range of textures, colors, flavors, and materials, they've also come a long way over the years. Then again, there's a lot we don't know about condoms. Enter: Your gynecologist, a condom guru of sorts. Needless to say, the questions gynecologists get about condoms are fascinating. It makes sense, too. Not only do these medical professionals have a firm understanding of how condoms work, but they can also offer guidance on choosing the right one for you, as well as how to handle any mishaps related to using them.
So, why aren't you tapping your gynecologist for their wisdom? Is it perhaps a bit of embarrassment or bashfulness? The thing is, your safety is far more important than any awkwardness — which means it may be time to suck it up and bust out the tough questions. And rest assured that gynecologists have pretty much heard it all, particularly in regards to condoms. Like what, you ask? Here are some of the most common questions that Dr. Mary Jane Minkin, OBGYN at Yale-New Haven Hospital and clinical professor at Yale University School of Medicine, and Dr. Pari Ghodsi, Los Angeles-based OBGYN, have received from their patients.