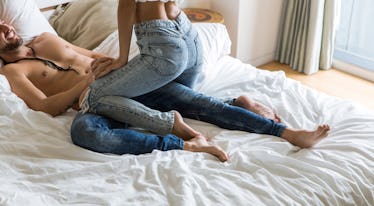 Let's Be Real, Sex With A Condom Is So Much Hotter Than Sex Without One
Tell me if this sounds familiar: You're hooking up with a guy (could be your SO or a rando) and he tries to sell you on the idea of not using a condom. You stand your ground, declaring, "no glove, no love," only to have them pout about condoms not "feeling as good." My guess is that this scenario is one you've seen on repeat since you've been sexuality active. But guess what? I'm calling shenanigans on this anti-condom conspiracy, because sex with a condom is hotter than unprotected sex. Like way hotter.
I know what you're thinking: But, what about the sensitivity? Is every person who's ever told me they don't enjoy sex as much with a condom lying? Well, let's take a look at some data. In their Millennial Sex Survey, SKYN condoms discovered that 88 percent of condom users are satisfied while 82 percent of non-users are satisfied with their sex lives. So, sex with a condom is not only as good as without one, but it's actually better. Is your mind blown? Well, when you really think about it, this actually makes sense. There are a lot of reasons why sex with a condom is way more enjoyable — both during and after. How so? I'm glad you asked.