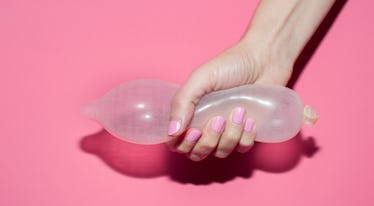 An Open Letter To All The Guys Who Say They Won't Have Sex Using A Condom
Some guys out there just really don't like condoms — and that includes plenty of guys who say they won't use condoms during sex. It's weird, because by now condom usage seems like it should be such a common sense thing — why wouldn't you want the sex you're having to be safe sex?
Some men's refusal to wear a condom is accompanied by reasons or excuses that range from "I don't like the way it feels," to "but you're on the pill/have an IUD/some other birth control method, so it doesn't matter." (This is all super frustrating, by the way.) So, if you're one of these guys in question, consider this an open letter to you, because there are a few things you really, really need to know.
First of all, here's the thing: Even if it's true that you personally enjoy sex more without a condom, that doesn't mean your partner will. In fact, your partner will probably be able to enjoy sex a whole lot more if they know they don't have to worry about pregnancy or sexually transmitted infections, because, guess what? The pill and other birth control methods don't protect against STIs — only condoms do — so it does matter.
Eventually, there might come a time when you and your partner mutually (the key word here is "mutually") agree to not use condoms together, and that's different — if that works for you both, have at it! But refusing to wear a condom when the person you want to sleep with doesn't feel comfortable having sex without one? That isn't fun for anyone. And you want sex to be fun, right? That means you need to be on the same page as your partner when it comes to consent and protection.