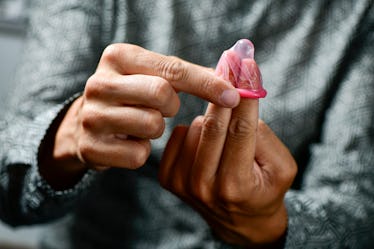 Condoms Don't Fully Protect You From This STD, But There's A Shot To Keep You Safe
The list of STIs is just about as long as the receipt you get at CVS after buying exactly one item (like, say, a pack of condoms). There are a lot of them, and the most common STI of them all? Human papillomavirus, or HPV, which if you're at CVS or anywhere really, begs the question, "Do condoms protect against HPV?"
Well, it's complicated. But before we get into that, there are a few things you should know about HPV. According to the Centers for Disease Control and Prevention, HPV is the most common STI of all, but did you know that about 79 million Americans are infected with HPV right now? Or that another 14 million get infected each year? I'm no math whiz, but those numbers don't look great.
Here's what they really mean: According to Planned Parenthood, there are about 100 types of HPV, and approximately 40 of them affect your genital area, including your vulva, vagina, cervix, rectum, and anus. It's spread through skin-to-skin contact, so basically, if you're sexually active, you can get HPV at some point in your life. Before you freak out, you should know that in most instances, HPV infections aren't super threatening and will usually go away on their own. In fact, STD expert Dr. H. Hunter Handsfield, Professor Emeritus of Medicine at the University of Washington Center for AIDS and STD, told Elite Daily, "For every one woman diagnosed, there are 10 that are undiagnosed. It's so common that it needs to be de-stigmatized."
You might be wondering, "If it's no big deal, why all the hype?" Well, at least 12 strains of HPV are considered high-risk HPV because they can lead to cancer — types 16 and 18, especially. In addition to cervical cancer, HPV can also cause cancer in your vulva, vagina, penis, anus, mouth, and throat.
Now that you know what's at stake, here's how you can be safe when it comes to HPV.