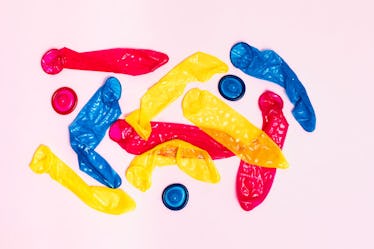 6 Reasons Condoms Are Likely To Break & How To Keep That From Happening
No feeling is quite as stomach-dropping as realizing there's a hole in the condom you and bae just used during sex. Cue the freakout, and the questions about how it even happened to begin with. Turns out, there are several reasons condoms are likely to break during sex. According to sexologist Dr. Nikki Goldstein, condoms can break if they're expired, if they've been kept in the heat, if there's too much friction and not enough lubricant during sex, and if you're using the wrong size rubber — and that's just a few of the reasons. But luckily, a condom breaking doesn't happen as often as you may think.
"Majority of studies have shown that condom breakage or falling off are fairly rare, however, there is a wide variety of data ranging from 0-22 percent of the time," obstetrician and gynecologist Dr. Sheila Loanzon tells Elite Daily. "Condoms break approximately 2 percent of the time with vaginal intercourse, [and there's a] slightly higher risk of breakage and slippage during anal intercourse. If your partner reports that the condom seems to break more frequently, it may be imperative to review technique to make sure the condom is being properly applied."
If you happen to find yourself falling into one of the 0-22 percent of people who experience a condom breaking during sex, fret not. There are ways to prevent pregnancy and STDs, which may be two of your biggest concerns post-breakage. But before we get to that, here are six reasons why the condom broke in the first place, so you know what to do to make sure it doesn't happen again.