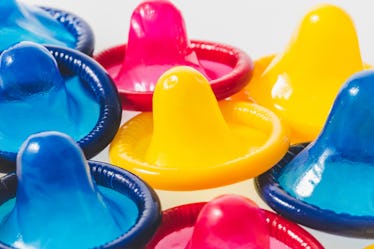 9 Legit Mind-Blowing Facts You Probably Never Knew About Condoms
Whether or not you're sexually active, you've likely learned the basics of condom use. Depending on the amount of education you received and how much experience you have, you may think you've already learned everything there is to know about condoms — how to put one on, what they're made out of, the fact that using two actually causes more friction and makes the condoms more likely to break, and so on. But for an object that has been in use for thousands of years, there are bound to be at least a few condom facts you didn't know.
Rubber, raincoat, jimmy, bag, hat... whatever you prefer to call it, the condom has a long history. The actual concept hasn't changed much over time, but manufacturers have managed to make them both more effective and more easily mass produced. Unfortunately, in many countries, condoms aren't as accesible as they are in the United States. This is a big problem when it comes to preventing HIV, especially in regions such as sub-Saharan Africa, where the infection is especially prevalent. If you think that's interesting, get ready for facts that are even more eye-opening. The following nine pieces of knowledge about condoms are pretty wild.