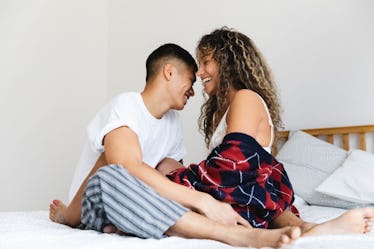 You Might Not Realize It, But These 6 Things Can Make You More Likely To Get Pregnant
In the heat of a sexy moment, having to go through a mental checklist of all the ways you've made the effort to prevent an unwanted pregnancy is pretty much the linear definition of a turnoff. You'd think as long as you've got some form of birth control on your side, you should be good to go, right? Well, not exactly. See, there are a handful of things that can make you more likely to get pregnant. Some are pretty sneaky, some really are just common sense. But hey, I'm not pointing any fingers here. Nobody's perfect, and I'm no stranger to the notion that it's not always possible to be 100 percent prepared. You can, however, come pretty close, if you do your research.
Even though the whole "it'll never happen to me" mindset is super appealing, assistant professor at NYU School of Medicine, Dr. Daniel Roshan, M.D., F.A.C.O.G, F.A.C.S, tells Elite Daily that statistics show 50 percent of pregnancies are not planned. But here's the catch: Of these surprise pregnancies, Roshan also notes that "not using any contraception or not using them the proper way" are the most common reasons for why they happen in the first place.
So let's say you're using some form of birth control, and you're pretty responsible when it comes to using your preferred method correctly. What else goes into preventing pregnancy other than birth control?
Listen, I know I don't have to tell you that the only surefire way to prevent pregnancy is to not have sex. I'm sure your parents and health teachers have already communicated that fact numerous times over the years. However, I also know that not everyone wants to remain celibate until they're ready to have kids, and that's OK. You are more than entitled to explore your sexuality in any way with anyone you choose (with consent, of course). But if you know for a fact that you don't envision yourself with a bun in the oven any time soon, taking advantage of all preventative measures available to you is key.
Your first line of defense is going to be narrowing down what form of birth control is right for you. Keep in mind, there are all different types of birth control — from oral contraception, to devices you can insert into your arm — so it's important to ask your OBGYN about the many options out there. After all, hormonal medication isn't for everyone, and you should never feel like popping pills is your only option.
On top of birth control, however, it's a good idea to make yourself aware of some of the more unexpected things that can make you more likely to get pregnant. Here are a few to watch out for, according to experts.