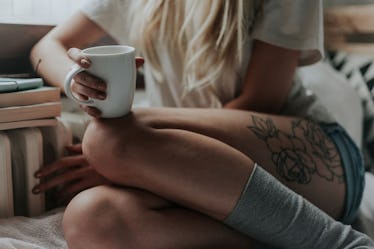 This Is How All 4 Stages Of Your Menstrual Cycle Affect Your Body, According To Experts
Periods are like theater productions, in that PMS is the rehearsal week leading up to the main event, aka when you actually bleed. But there's also a lot of behind-the-scenes action at play that you might not even realize is happening throughout the entire month, not just between the time you start experiencing symptoms and stop bleeding. Similar to the moon's cycle, menstruation can be broken down into phases, and each one affects your body in different ways. If you don't know what the four stages of a menstrual cycle are, and how they coincide with the way you feel at different points in your cycle, listen up, because this is important.
It shouldn't come as too big of a surprise that the four phases of your menstrual cycle operate according to your hormones, specifically the big three: estrogen, progesterone, and testosterone. What's really fascinating is that you could take things even further, and talk about how your hormones don't just fluctuate by phase; the ways in which they change and influence how you feel varies daily. In other words, you'll probably never feel the exact same way emotionally, or physically, from one day to the next, which is why Rebecca Booth, M.D., OBGYN and co-founder VENeffect, tells Elite Daily that the key to understanding your cycle is to understand your hormones — why they fluctuate, and what you can do to "take charge of these variations," she says.
So what are the four phases of your menstrual cycle, and how do they correlate with how you feel on any given day of the month? I asked a few experts in the space to break down the basics of what you need to know — here's what I found out.