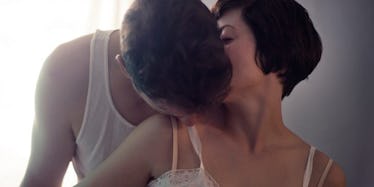 Too Many Guys Are Relying On The Pull Out Method, So Make Sure Your Guy Wraps It Up
Stocksy/Rachel Bellinsky
Ah, the pull out method, also known as the form of contraception that frat dude you used to hook up with in college used to try to convince you to do in lieu of condoms because those just "don't feel good." If you haven't hooked up with said dude and haven't heard of it, the method is pretty self-explanatory. It's when the dude pulls out before ejaculating during penetrative intercourse, as a way to prevent pregnancy, and it's growing more and more in popularity. But have you ever wondered to yourself, "Should I use the pull out method?" Well, the simple answer is no, you probably shouldn't.
But that isn't stopping people from giving it a shot. In addition to a study released earlier this year, which found teens have been relying on the pull out method more than ever, a newer study found single adult men are also relying pretty heavily on the less-than-reliable form of contraception. The present study, which surveyed 3,707 sexually active unmarried dudes, found that the number of unmarried American men who rely on the pull out method has almost doubled in the 13 years between 2002 and 2015.
Are you more of a hard numbers person? Let me run some by you. In 2002, only a mere 9.8 percent of unmarried men relied on the pull out method. That's nothing when it comes to the whopping 18.8 percent who admitted to doing the same in 2015. Yep, for all you numbers people out there, that's just one percentage point shy of double the number of men using the pull out method.
The study, published by the National Center for Health Statistics, found that overall use of male contraceptives has been increasing. So, that is some good news. But there's a catch: While other forms of contraception, like condoms and vasectomy rates, have remained the same, the withdrawal method has still increased.
Of course, the increase in other more reliable forms of male contraception is a step in the right direction in that these men are making an effort to practice safe sex. And of course, practicing the pull out method is better than completely foregoing any sort of contraceptive method whatsoever. Still, the pull out method is definitely not the most effective contraceptive choice.
In addition to having no way to protect you against STDs, the pull out method also leaves a lot of room for error. In fact, according to Planned Parenthood, 27 out of 100 women who use the pull out method get pregnant every year. That's more than a quarter of women.
So, if there's anything to remember from this information, it's to use a condom. Please. I BEG YOU.
Check out the "Best of Elite Daily" stream in the Bustle App for more stories just like this!