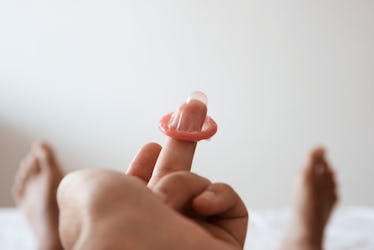 Condoms Don't Fully Protect You From Herpes, So Here's What You Need To Know
In true millennial fashion, I'm not exactly a fan of anything permanent. So essentially, my two major concerns in life are, "I'm locked into this phone plan for how long?!" and, "Do condoms protect against herpes?" I hate to admit it but my sex ed. lecture in high school looked a lot like the bizarre one Coach Carr gives in Mean Girls, except this was Catholic school, so we absolutely did not get condoms afterward. Beyond my pop culture knowledge that you should always ~wrap it up~, I didn't really give much thought to other ways I could protect myself against STDs.
Luckily, I've learned a lot since high school. For example, I know now that more than half of all Americans have oral herpes and one in six have genital herpes, according to Planned Parenthood. Plus, condoms aren't 100 percent effective against preventing the transmission of STDs, which brings me to my most important revelation of all: There's so much more to worry about than cum (and yeah, pre-cum, too). Some STDs, including herpes, can be transmitted via intimate skin-to-skin contact.
According to Planned Parenthood, herpes is so common because it's a "sneaky infection," meaning you can't always tell if you or someone else is infected just based on outward appearances. Although the infection is most often associated with sores and blisters near the mouth and genital regions, you can go years with the virus in your body and not have any symptoms.
That said, here's what you need to know to protect yourself against herpes, according to Dr. Prause, sexual physiologist and founding neuroscientist at sexual biotechnology company Liberos, and Dr. Cindy Duke, OB-GYN and medical director of the Nevada Fertility Institute.