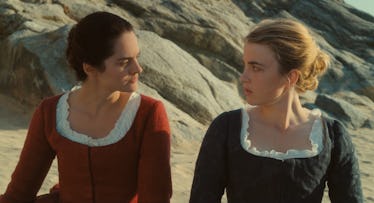 18 Magical IG Captions For Your Lesbian Couple's Costume Pic
Half the fun of Halloween as an adult is Instagramming your costume the next morning. And with spooky bar crawls and parties out of the question due to the coronavirus pandemic, it seems like Instagram will be 100% of the fun for Halloween 2020. Looking for the perfect Instagram captions for lesbian couple's costumes? Step right up. Below are some frightfully good caption ideas — both for costumes of legendary, fictional sapphic couples, and for general Halloween-y goodness.
Increased LGBTQ+ representation on TV and in the news provides so many new costume options, it's hard to decide what you and your boo want to dress up as! If not Cara Delevingne and Ashley Benson (or Delevingne and Halsey), you and your partner can flex as Ali Krieger and Ashlyn Harris. Maybe you'll put your quarantine craftiness to good use, make those Dirty Computer p*ssy pants, and be Janelle Monáe and Tessa Thompson for Halloween.
Also consider the fictional fan-favorites everyone continues to rave about this year: Brittany and Santana from Glee, Rue and Jules from Euphoria, and Héloïse and Marianne from Portrait of a Lady on Fire. And of course, a queer vampire-werewolf, witch-witch, or angel-devil moment is totally cute, if all those other costumes sound like too much work. Whatever you choose, here are 19 captions that will make you and your partner the Hallow's Eve envy of Instagram.