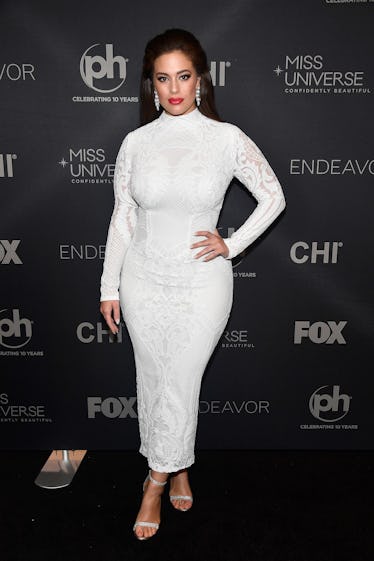 17 Plus Size New Year's Eve Tops & Dresses To Start 2018 On A Hot Note
Frazer Harrison/Getty Images Entertainment/Getty Images
More and more brands are designing awesome plus size clothing, not to mention the incredible plus size-only brands out there. All of these fabulous options, along with the approaching year end holiday, amount to one thing: f*cking fabulous plus size New Year's Eve tops and dresses.
Anyone can be stylish at any size, and thankfully, the fashion industry is starting to recognize that. Curvy model Ashley Graham is a pioneer for other other plus size women, even trying to rebrand the term as curve sizing, and petitioning to be the first curvy Victoria's Secret angel. Christian Siriano, from Project Runway fame, was one of the first major designers to start using multiple plus sized models in his fashion week runway shows.
The message is clear — we, the people, want to see more representations of the vast spectrum of sizes that real women embody. The past few years have been a giant leap in progress for womankind, and 2017 continues to improve, particularly in fashion. Let's celebrate the strides we've made and get festive AF for New Year's Eve.
I've rounded up the best of the best for plus size New Year's Eve looks, so whip out your credit card (don't hate me) and let the games begin.
Eloquii Crushed Velvet Midi Dress
($100; eloquii.com)
Is that an Oscar statue? Oh no, it's just you looking like a golden goddess in a plush, comfy velvet.
Old Navy Plus-Size Sleeveless Jumpsuit
($48; oldnavy.com)
Pockets FTW. This golden pattern is also enticing AF.
Calvin Klein Plus Sequin Cowl Top
($52; dillards.com)
Sometimes a simple sequin tank top is all you need — just add matching glitter eye makeup.
Boohoo Plus Aimee Beaded Mesh And Velvet Panel
($29; boohoo.com)
Show off your cleavage without having to worry about a nip-slip. That negative space beading is exquisite, just like you.
Lane Bryant Fast Lane Metallic Striped Off-The-Shoulder Blouse
($70; lanebryant.com)
This puffy-sleeved top will take you well past New Year's Eve, since you can pair it with jeans for any 2018 night out with your squad.
Vince Camuto Plus Textured Satin Top
($59; bloomingdales.com)
A metallic T-shirt like this is one great if you're just hitting your local dive bar for the night, but still want to kick things up a notch.
NaaNaa Plus Sequin Maxi Dress With Split
($76; asos.com)
Did you just win the lottery? 'Cause you look like a million bucks. Wear this only if you want to be fielding inquiries about your dating status all night long.
Love & Legend Metallic Mesh Long Sleeve Top
($52; additionelle.com)
Sheer pieces like this top mean you can show off some skin without freezing your butt off, although you'll still probably want a coat.
Charlotte Russe Plus Size Sequins One Shoulder Bodycon Dress
($20; charlotterusse.com)
Anyone and everyone can rock a bodycon dress, and this sequined, one-shoulder freakum' dress is on point.
Kiyonna Valentina Illusion Dress
($50; kiyonna.com)
Cue the jaw drops. Black and white is a timeless trend for a reason.
Plus Size Metallic Polka Dot One-Shoulder Top
($45; forever21.com)
Bringing the '80s into the 21st century one metallic polka dot at a time.
Missguided Curve Black Sequin T-Shirt Dress
($77; missguidedus.com)
Remember The Rainbow Fish book? This dress is so under-the-sea rad.
Simply Be Silver Sequin Cold Shoulder Top
($65; simplybe.com)
Your shoulders may be cold, but you'll be looking hot.
Soprano Sequin Stripe Body-Con Dress
($62; nordstrom.com)
Avoiding horizontal stripes is an outdated taboo, and this dress is a modern must-have.
RACHEL Rachel Roy Plus Swing Sequin Dress
($54; lordandtaylor.com)
Reminder that sequins don't have to be only gold or silver!
Rebel Wilson X Angels Plus Plus Sequin Bodycon Dress
($60; lordandtaylor.com)
Just in time for Pitch Perfect 3, rock a Rebel Wilson original! You'll look aca-fabulous.
I hope you're not sick of sequins yet because I've got them in spades.
Lauren Ralph Lauren Plus Size Metallic Surplice Top
($83; macys.com)
OK, I actually don't, this is my last ditch effort to get any of you anti-sequin ladies to shine extra bright this New Year's Eve.