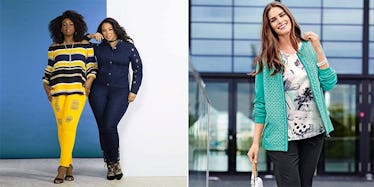 These Plus-Size Clothing Lines Are Proving That Trendy Fashion Fits Everyone
Ashley Stewart/Ulla Popken
There's a whole lot of commotion going on in the media about plus-size ladies.
They are getting more representation on the covers of magazines, in ads and on the big screen, which is helping to empower those women with a curvier figure.
In fact, it seems like the societal opinion of plus-size ladies in general is starting to take a turn for the better.
With more designers and clothing companies starting to produce sexy, plus-size clothing, curvier women are looking sexier than ever.
Here are just a couple of popular, plus-size clothing lines to prove it:
Starting off in local neighborhoods, Ashley Stewart decided to make clothes specifically for all the plus-size women out there who wanted to look their best.
The brand has now become iconic for providing the most trendy, fashion-forward items on the market for curvier women.
There are now 89 stores around the country as well as a loyal following from the online community. She believes in sisterhood and through her clothing, she hopes to make larger women feel fabulous, sexy and confident.
Lace Up Flare Dress, $18, Pink Queen; V Neck Half Sleeve Dress, $18, Pink Queen 
Around since 2008, Pink Queen has been helping ladies of all sizes put their best fashion foot forward.
The store is online only, and they focus on women ages 18 to 35. Their goal is to create clothing that will help women reap the rewards of putting passion into what they wear.
From lingerie, swimsuits and costumes to leggings, vintage outerwear and club clothing, they've got trendy items for any occasion. Plus, their frequent promotions and coupons make them affordable, so everyone has the chance to live in style.
This company has some pretty solid connections it uses to bring the best in fashion to its customers.
With several industry insiders and import/export companies in their contact book, Jolly Chic is always one step ahead in the industry.
Using more innovative clothing designs, they hope to fill the closets of every type of woman with clothes they can feel proud of.
High-Neck Flounce One Piece, $75, Venus; Blouson One Piece, $60, Venus 
After getting its start in a college dorm room in Florida, Venus has always had individuality as its main focus.
Recognizing that each woman has her own individual needs, the designers at Venus have always done their best to listen to those needs and design their products accordingly.
Jersey Maxi T-shirt Dress, $29- $41, Simply Be
The motto behind Simply Be is to let women "simply be" themselves. Each of their items is created to fit plus-size women perfectly, and the brand hopes women wearing their clothes will turn heads and stop traffic!
Being you is sexy, and Simply Be wants all the women out there to stand out, be bold and never blend in to the background.
Founded in Germany during the 1800s, Ulla Popken didn't start out making plus-size clothing. It wasn't until the 1960s that they started a maternity line after the creator's wife became pregnant.
During this time, he witnessed an employee packing up over 15 maternity items and wondered why the customer needed so many.
After asking, he found out she wasn't pregnant, and the maternity clothes just fit her best and most comfortably. This sparked the idea for creating a fashion line for plus-size women to enjoy, too.
Now, each of the items in this line is designed with style, comfort, fit and quality in mind.
There are tons of plus-size clothing stores popping up around the world. If you want to dress your beautiful body in clothes that make you feel amazing, check out this list or one of these fantastic, featured shops.