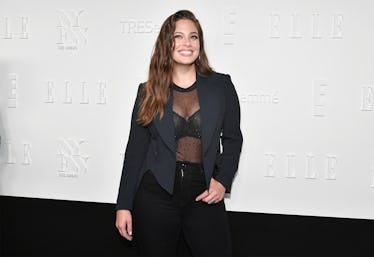 Ashley Graham Doesn't Want You To Call Her A "Plus-Size" Model & Here's Why
Dia Dipasupil/Getty Images Entertainment/Getty Images
Society is at its best when we're moving forward, but sometimes, that requires us to admit we haven't been treating or discussing an issue as well as we could be. For example, a common term for referring to people in the fashion industry whose bodies are heavier set is "plus-size," but it looks like that might be changing soon. In a recent interview, supermodel Ashley Graham noted her disapproval of the word, which has a lot of people wondering if "plus-size" is an offensive term, and whether it's time we get rid of it once and for all.
In an interview with Gayle King on CBS Sunday Morning, Graham discussed the limiting and divisive aspects of lumping millions of women, all with different body types, under the umbrella of "plus-size." Her main problem with the term is its degrading stigma: Women who have to buy plus-size clothing can often be treated like second-class citizens, as if they care less about health or fashion.
She explained in the interview,
I think the word "plus-size" is so divisive to women. I think that when you use the word "plus-size," you're putting all these women into a category: "You don't eat well." "You don't work out." "You could care less about your body." "You're insecure." "You have no confidence."
As a technically "plus-size" supermodel, Ashley Graham has been a long-time advocate of body health and positivity.
This isn't the first time Graham has stood up on behalf of curvier women to break down barriers and reshape our language. In a TED talk directly related to the stigma of "plus-size" modeling, Graham noted how absurd it was that a majority of women are technically considered "plus-size," and yet we treat such women as the exception to the rule:
Now, the fashion industry may persist to label me as "plus-size," but I like to think of it as "my size." In fact, did you know that the plus-size fashion industry actually starts at a U.S. size eight? And it goes up to a U.S. size 16. So basically, what I'm saying is that the majority of this room right now is considered plus-size.
How does it make you feel to be labeled? I really feel like we need to start looking beyond the plus-size model paradigms to what it actually means to be a model in 2015.
Approximately 67 percent of women in the United States fall under the category of "plus-size" consumers.
As the first plus-size woman to grace the cover of the Sports Illustrated Swimsuit issue, Graham's decision to speak out about getting rid of the term "plus-size" will no doubt have a massive impact on the industry itself in the long run.
But she isn't the first "plus-size" model to speak out about the need to make the modeling industry more reflective of all women, not just some women. Emily Jean Schenck is another curvy model who was featured on the cover of Women's Running Magazine. In an interview with The Daily Beast, Schenck gave a more diplomatic response to the stigma of "plus-size" in the modeling and clothing industry:
The only way anyone gets attention is for going against the grain. If we go with the grain, nothing changes. If we want body acceptance, we have to do something different.
Both Graham and Schenck make excellent points, but there's an even larger, more prevalent reason why the fashion industry should care about how it treats its "plus-size" consumers: Sales of women's plus-size clothing rose to more than $21 billion in 2016 (keeping in mind that "plus-size" clothing can actually refer to a size eight or 10).
The question, of course, is what sort of language should we use if we're scrapping the term "plus-size." But that question in and of itself effectively misses Graham's overall point, which is that we don't need an additional term to describe what is, in reality, the majority of American women.
They're just women, and Ashley Graham is just a supermodel. That's really all there is to it.