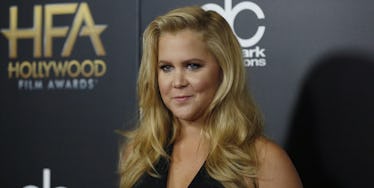 Sorry, But Amy Schumer Is Definitely Not Plus-Size
REUTERS/Mario Anzuoni
Glamour just released its first ever plus-size issue in collaboration with Lane Bryant, a milestone for the magazine and the fashion industry alike.
When I first heard about the cover, I was pretty pumped. It's so great to see any body type other than the stick-thin models we're used to on the cover of anything.
Plus, Ashley Graham, the woman behind the movement to put curvier women on runways, covers and in fashion spreads, scored the cover of the issue, and there's no denying the model deserved it. She's gorgeous, strong and advocates a powerful message about body positivity.
However, when I finally got a look at the cover, I noticed one of the women the magazine featured in its special plus-size-only issue was none other than Amy Schumer -- Glamour, WHAT?
Now, Glamour doesn't directly attribute the word plus-size to Amy Schumer on the cover (and it's yet to be seen how the mag describes her inside), but placing her name on an all-plus-size issue does associate her with the term, and many people will pick up the copy of the magazine with the expectation of opening it up to spreads of only plus-size women.
Technically, "plus-size" refers to women sizes 16 and up, and in the fashion industry, it can often even mean women sizes 8 and up (which is part of the problem), but to be honest, I think using the word "plus-size" at all can be pretty tricky.
There's absolutely nothing wrong with being plus-size, unless it's a result of unhealthy eating habits and inactivity, but the fact that curvier models have to be distinguished from "normal" models at all seems wrong to me.
Also, if I were Amy Schumer, Adele or Melissa McCarthy, I would prefer my body not be labeled with such words -- plus-size, skinny, thick or anything -- without my consent.
While it's wonderful Glamour promotes these ladies as inspiring, none of these women labeled themselves "plus-size" in the past, so why should Glamour be allowed to categorize them?
And to top it off, Amy Schumer is NOT PLUS-SIZE. I mean, she may be curvier than the average actress (maybe), and she's certainly curvier than the average model, but plus-size!? No effing way.
This sends the wrong message to young women who will believe the term "plus-size" means having, like, a few extra pounds on you and a slightly curvier physique.
If Amy Schumer, an athletic, fit woman with feminine curves is plus-size, that means the majority of women are, too, and that's just not accurate.
There are an endless amount of body types -- all beautiful, all different. Body types belong on a spectrum. They are not binary. You are not just skinny or fat, regular or plus-size, thick or thin.
Just because society may not have a term for the point at which Amy Schumer lies on this spectrum doesn't mean we should just throw her under one of the categories we have constructed. Doing so only skews people's idea of what the average woman looks like, leading to unhealthy standards for our bodies.
I mean, honestly, this Glamour issue only makes it more apparent we should just get rid of these labels altogether. Then, women of all shapes and sizes could be featured in one magazine, and there wouldn't even need to be this special plus-size issue.
Citations: Ashley Graham flaunts her hourglass figure as she covers a special plus-size issue of Glamour, which also sees curvy model Iskra Lawrence star in a stunning spread (Daily Mail)