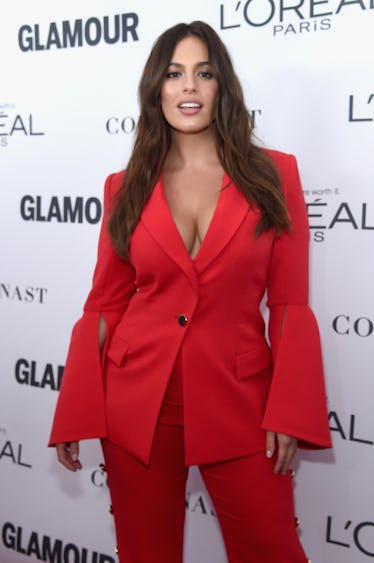 Ashley Graham's Latest Instagram Throws Major Shade At The VS Fashion Show
Jamie McCarthy/Getty Images Entertainment/Getty Images
The Victoria's Secret Fashion Show is definitely a glittery event that receives tons of viewership. Every year, VS takes their show on the road to some exotic location to create a fashion event that is bigger and better than previous years. However, the show also receives backlash for their unarguable lack of size inclusivity. Ashley Graham's Instagram about the Victoria's Secret Fashion Show threw some major shade at the organization. Graham certainly has a voice in the fashion industry, and she's not afraid to use it.
The model took to Instagram with a picture of herself strutting down the Addition Elle runway. Addition Elle is a curvy retailer that believes in "Fashion Democracy." According to the brand's website, they are "the style destination for fashion forward and fun-loving plus-size women."
There was one part of Graham's sassy runway picture that was admittedly photoshopped — the addition of angel wings. In the photo, Graham is stunning in a black and pink bra with matching underwear. She captioned the photo, "Got my wings! .. my #AdditionElle wings! #thickthighssavelives"
According to Buzzfeed, the largest panty size Victoria's Secret carries is an XL and the largest bra is 40DDD. People have definitely taken notice of the limited size selection. A petition for VS to add plus-sized items to their stores started by Dana Drew has even received over 3,600 signatures. The ultimate goal for the petition is 5,000 signatures. Drew's reasoning behind starting the petition is stated in the description,
Recently, Victoria's Secret launched a marketing campaign for their clothing and lingerie lines called "The Perfect Body." While I believe every company has the right to market however they wish, I also believe all women, including plus size women like me, have perfect bodies and deserve to feel sexy too. That's why I'm asking Victoria's Secret to introduce plus sizes to their collections so women like me can wear their products.
Obviously, Ashley Graham was trying to make her statement to Victoria's Secret loud and clear.
Many fans praised the model on her Instagram page. One user, @qxeen.zoeee, said,
This honestly means so much with all of this body positivity!! I know that I'm young, but I'm so glad that I live in a time where I can look up to powerful women like you!! xo @ash
Another fan, @isabel_gil23, commented,
You are so gorgeous thank you for being an inspiration to me and all other girls out there who have ever had doubts about their bodies! Ily
Fans used Graham's picture to talk about the big picture of the fashion industry. @sarahleinerh said,
fashion should be revolving as everything else in the world and that means embracing different kinds of images
People are definitely aware of the subtle shade Graham's new wings throw at the VS Fashion Show, which is getting ready to air on Nov. 28. @angelj2011 said in a comment on Instagram,
honestly, you're too good for them anyway. Start your own show!
As we have all seen, people love a little shade thrown around in the celebrity universe. That's not to say that Graham isn't a fan of Victoria's Secret or their yearly fashion show. In 2016, TMZ reportedly asked Graham about the possibility of her joining the coveted fashion show. She responded,
I mean, when Victoria's Secret calls me and asks me to be on their runway I'm gonna say yes.
Whether VS does call upon Graham or not, she will always be a body positive role model to women of all ages. She is a huge believer is speaking her mind and using her voice.
Although Graham didn't openly say her post was about Victoria's Secret, the superimposed angel wings say more than any caption could.
Check out the entire Gen Why series and other videos on Facebook and the Bustle app across Apple TV, Roku, and Amazon Fire TV.