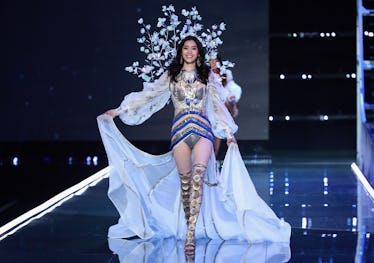 This VS Fashion Show Model Fell On The Runway & Handled It Like A Badass — VIDEO
Lintao Zhang/Getty Images Entertainment/Getty Images
Walking in the Victoria's Secret Fashion Show is probably one of the biggest moments of a model's career. Even people who aren't up-to-date with the latest haute couture or who don't know who Anna Wintour is know about the VS Fashion show. To walk in the show is likely a very nerve-wracking experience. Well, this year's fashion show took place on Monday, Nov. 20 in Shanghai, China, and a little slip-up was caught on tape. Even though the show doesn't air until Tuesday, Nov. 28, there is already video of Ming Xi's fall at the VS Fashion Show making its way around the internet. Don't worry, you guys, she totally handled it like a pro.
The Victoria's Secret Fashion Show is all about showing off the latest styles in the brand's lingerie, and it's usually done in a very avant-garde fashion (I don't know about you, but I've never paired my bra with angel wings). People look forward to seeing what intricate and over-the-top ensembles the models will sport, and the VS Fashion Show usually lives up to the hype. Beautiful models and lingerie is kinda their thing.
This year was no different. Case in point, model Ming Xi was modeling a VS ensemble complete with heels, a configuration of flowers attached to her back, and an extremely long train made of a sheer material. As she was strutting the runway, part of the train made its way under her heel, and she slipped and fell.
You can watch the fall below.
You can see in the video that she looks like she's attempting to keep the train up and moving to prevent a fall, but there is just so much of it. She was not down for the count, though. Xi got right back up, and she did so with a smile on her face. With the help of fellow model Gizele Oliveira, Xi picked herself up and continued walking the runway, according to a video from Elle.
Oliveira helps Xi to her feet because angels always stick together.
Xi deserves all the credit in the world for getting right back up and going on with the show. Personally, I think she also deserves a round of applause for just walking as long as she did in that outfit without falling. Seriously, if you really take a look, pretty much everything going on is working against her. She's in sky-high heels, practically sporting a tree on her back, and she has to manage quite a few feet of fabric — all while trying to remain angel-like.
Continuing her show of "badass-ery," Xi went back out to model her next look and killed it. According to the Twitter account c-drama tweets, Xi took to her Weibo account to thank fans for their support. Xi said,
I'm sorry I disappointed everyone, thank you all for your concern, being a model for seven years, I've fallen countless times on the way... but I know regardless how painful it is, I have to stand up, finish walking. I'll continue walking on. TY
I can understand that Xi might be a little disappointed since that's probably not exactly how she pictured walking in the VS Fashion Show, but I hope she doesn't get too down about it. Of course, you don't want to let people down, but she really didn't do anything wrong. It's not like she threw off her heels and ran out of the building after falling. She picked herself up and continued on with the show.
Since the models walk the VS Fashion Show twice, it's not likely that the footage of the fall will be shown on the CBS broadcast on Tuesday, Nov. 28, but you will get to see Xi flawlessly model her other looks in the show.
Models in the VS Fashion Show sometimes look so perfect that it can be difficult to relate to them. This was a reminder that even models can hit a bump in the road, but all that matters is how you react. Xi should be proud of herself for getting right back up and setting an example of resilience when things don't go your way.
Check out the entire Gen Why series and other videos on Facebook and the Bustle app across Apple TV, Roku, and Amazon Fire TV.