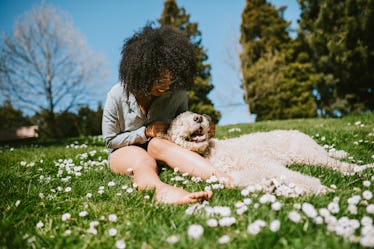 14 Backyard Pics To Take With Your Pup That'll Raise The Bark On Your Summer Instas
RyanJLane/E+/Getty Images
Regardless of how sizzling your summer may be, your Instagram feed should make every bit of your season look — and feel — fresh. Some pics will always rake in the love and LOLs, like doggone cute photographs of your fur baby. But for your next photo session, consider switching things up with some creative embellishments and ideas that can really raise the bark on your content. Start brainstorming with these summery ideas for pictures with your dog that can be put together right in your own backyard.
To recreate these ideas, you only need a camera, some simple props, your sweet pup, and yourself. You likely won't get any arguments from your pet by having a few extra treats on hand when they smile for the camera, too. So, pack accordingly and be on the lookout for any cute, unexpected moments when your pooch is being extra silly.
If you're feeling funny or super inspired, you could totally squeeze any blurry or candid photos of your pup into your Instagram post by using the "select multiple" feature. You could caption your reel, "Instagram vs. Reality," or, "Swipe for a hyper surprise." Truth be told, your followers will love seeing your dog stealing your prop that you had planned for a Kodak moment and running around the yard with it.
Without further ado, here are the summery ideas for pictures you can plan with your pup. Share them with this hashtag: #backyardpuppics.