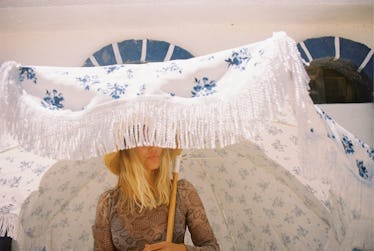 Here's Where To Snag Those Dreamy Beach Umbrellas You've Seen All Over IG
Scrolling through Instagram is one of the easiest ways to scope out the hottest trends of the season. You likely have your go-to inflatable and vibrant picnic blanket on deck, but Business & Pleasure Co's beach umbrellas are the next accessories you need to check out. Not only do they provide much-needed shade on warm summer days, but they also exude a gorgeous vintage feel that will make all your vacay photos look extra dreamy.
Business & Pleasure Co's umbrellas come in a chic array of patterns, and they're portable so you can easily take them from the backyard to the beach. If you love a certain pattern, you can even get a cooler tote and a beach chair to match. (Although, some of the fun is in mixing different patterns that you love!) To kick off your shopping journey, these eight patterns are too cute for words, so you'll want to check them all out.
Wear a 1950's-inspired swimsuit with a pair of cat-eye sunnies, and you'll be ready for a throwback photoshoot on the beach. To wrap things up, use a retro filter and a clever beach umbrella caption for your Insta post so you can inspire all your friends to have a picture-perfect summer, too.