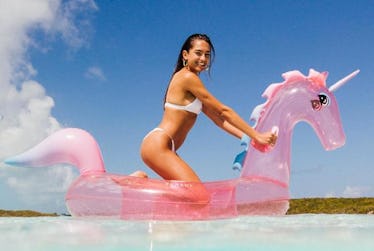 These Inflatables Are Ready To Float Into Your Heart & IG Feed This Summer
Another summer is about to float its way into your heart, so it's time to gear up for pool days and backyard chillin'. Along with cute swimsuits and vibrant beach towels, you'll want to be in the know about the best pool floats for summer 2020. A day by or on the water is made even better when you have something to lounge on. Since there are so many oversized inflatables out there, focus on what makes up your dream pool float.
You may want to something that's big and cozy. After frolicking in the water and playing games with the fam, you'll want to relax on an inflatable that's made for lounging. Something with a cup holder for your fruity drink is an added bonus. From there, you want to make sure your float is vibrant and IG-worthy. The swimsuit snaps and sunglasses selfies are #necessary for any pool day, so choose an inflatable that's worthy of your most 'Grammable moments.
Finally, treat yourself to a pool float that matches your summer vibe. If you're mermaid for the water, grab a holographic seashell float, and if you want to get close to bae, get something that's made for two people. Once you have your pool priorities in mind, it'll be easier for you to choose between any of the below floats that are the real MVPs of summer.