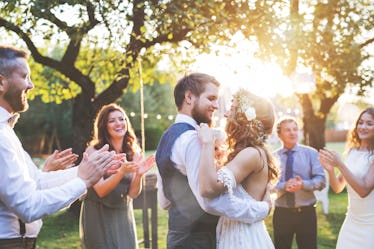 13 Romantic AF Love Songs That Are Too Perfect For Wedding Dances
Halfpoint/Shutterstock
Aside from saying the vows and cutting the cake, having the first dance is without a doubt one of the most memorable events newlyweds can cherish long after the big day is over. And while this beloved tradition can definitely make your reception more memorable, choosing the perfect track can feel like a lot of pressure. Sure, there are plenty of romantic songs for wedding dances to choose from. But you want to find one that appeals to both partners' music tastes, speaks to the unique nature of your relationship, and makes you feel comfortable enough to dance in front of all your guests.
First thing's first: It's a good idea to think about songs that are meaningful to your relationship, like the ones that you heard at your first concert together, or the one that was playing during your first kiss. Next, you can narrow down your choices by tempo. And of course, the lyrics will come into play as well, because if they encapsulate your bond well, the song can only make the dance more special.
According to a 2019 survey by The Black Tux of over 900 married people, a few of the most popular first dance songs include "Unchained Melody" by The Righteous Brothers, "All Of Me" by John Legend, and "At Last" by Etta James. And while all of these are phenomenal picks, there's something to be said for breaking the mold. From hit slow-jams to indie bops, these love songs are bound to make your guests bust out the tissues when you take a spin around the dance floor.