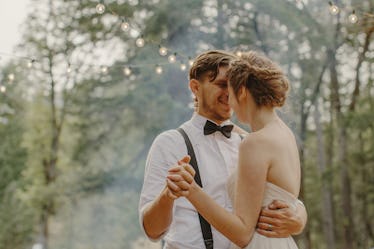 10 Indie Songs That Make The Perfect Wedding Song For You & Bae's First Dance
Planning a wedding can be intense. There are so many decisions to make. So much pressure. Sometimes what gets lost in the to-do-list-shuffle is that, at its core, a wedding is about celebrating the love and commitment of two people who have chosen to spend their lives together. And there is no moment more illustrative of that sentiment than the couple's first dance. So, it's important to pick a song that really captures the romance of the moment — but also feels very you. Fortunately, there is no shortage of indie songs that make good wedding songs for you to make your debut as a married couple to.
In fact, there are so many options that it could easily become overwhelming to pick just one. For example, do you want something classically romantic? Maybe mood matters more than lyrics in this case. Or perhaps you want to buck tradition altogether and pick a song that no one sees coming but that just feels right for you. After all, it's your wedding, and you get to make the rules — or break them as the case might be. To help narrow down your indie song search, I've put together a list of unique, romantic tracks to assist you in finding the one that best fits and expresses the unique harmony of your love story, on your wedding day.