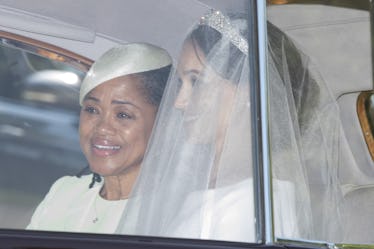 Meghan Markle Walked Down The Aisle To A Seriously Beautiful Song & Now I'm Crying
WPA Pool/Getty Images Entertainment/Getty Images
Music is everything — the right song can make your mood just as easily as the wrong song can break it. Imagine getting ready for a popping Saturday night out on the town without Ariana Grande blasting. Imagine getting over the worst breakup without Adele ripping a second hole in your heart. You can't, right? And so consider the intense amount of pressure that comes along with choosing the ultimate song to accompany you down the aisle. What song did Meghan Markle walk down the aisle to when she married Prince Harry? I'm glad you asked.
Meghan walked down the aisle on Saturday, May 19 to a hymn performed by the orchestra and Ms. Elin Manahan Thomas with Mr. David Blackadder, per Kensington Palace's announcement.
Although royal weddings are full of traditions, there's no one official song to accompany brides down the aisle at royal weddings. Meghan, Kate Middleton, and Princess Diana each chose their own music. It makes sense — weddings are deeply personal affairs, even if you're marrying into the royal family.
When Meghan's new sister-in-law Kate married Prince William on April 29, 2011, she chose to walk down the aisle of Westminster Abbey in London to a song that held particular importance to the royal family. Her walk was accompanied by "I Was Glad" by Sir Parry, an anthem written for the coronation of King Edward VII in 1902, according to The Spruce. It has been used for every coronation since, including Queen Elizabeth II's Golden Jubilee ceremony in 2002.
In addition, Will and Kate selected three pieces of music to play before their ceremony began as a tribute to his dad and step-mom, the Prince of Wales and the Duchess of Cornwall, the Spruce notes. These three orchestral pieces played during Charles and Camilla's wedding in 2005: "Farewell to Stromness" by Sir Peter Maxwell Davies, "Touch Her Soft Lips and Part From Henry V Suite" by William Walton, and "Romance for String Orchestra Op. 11" by Gerald Finzi.
To contrast those more classic songs, Will and Kate chose to include one piece of music from a younger composer. "Ubi Caritas," a piece by Welsh composer Paul Mealor, then 35, was sung during the ceremony by the Royal Wedding Choral Motet. This version of the song originally premiered in 2010 at the University of St. Andrews, Will and Kate's alma mater (the couple met while attending school). Don't get it twisted, even though Mealor was a more modern choice, the piece still sounds pretty typical for what you'd expect to hear at a royal wedding — it's orchestral music.
When Princess Diana married Prince Charles on July 29, 1981, also at St Paul's Cathedral in London, a choir sang "Trumpet Voluntary," an anthem by 17th-century British composer Jeremiah Clarke.
When Meghan's character Rachel Zane got hitched to Patrick J. Adams' character Mike Ross during the season seven finale episode of Suits on April 25, the wedding featured a beautiful song choice. John Legend's ballad "All of Me" played while Rachel and Patrick stood at the altar. But even though Meghan's real-life wedding doesn't need to be quite as formal as the Duchess of Cambridge's was, it's understandable that she couldn't choose a pop song for her big moment — even if it's sung by someone as incredible as Legend.
Post-ceremony (the real one, not the one on TV), Meghan and Harry will host a private reception. While there's no word on exactly whether they chose a band or a DJ, or which songs will be on the playlist, it's safe to bet that the music will kick things up a notch. I mean, we already know the wedding will have food trucks and a custom scent — it's pretty clear the music will be cool enough to match.