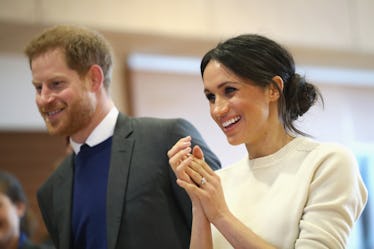 Meghan Markle & Prince Harry's Wedding Will Have Food Trucks & It's So 2018
Chris Jackson/Getty Images Entertainment/Getty Images
Meghan Markle and Prince Harry are truly proving more and more each day that they're just like the rest of us. On May 19, the royal couple will say "I do" at St. George's Chapel in Windsor, U.K., and while there's sure to be fancy food and expensive drink served, a more casual option will also be available for guests to enjoy. Foodies rejoice, because Meghan Markle and Prince Harry's wedding will have food trucks. My mouth is watering just thinking about it.
Let's be honest, the best part of any wedding is the free food. So what goodies can can guests expect on May 19? According to Brides, the couple plans to feature a wide assortment of food, including grilled cheeses, tacos, and other classic American delicacies. Plus, rumor has it they want to feature "ice cream vans" for those post-party late night munchies, according to The Sunday Express. I'll admit I was a little bit salty about not snagging an invite to the royal soirée, but now I have downright FOMO. Please imagine for a moment Queen Elizabeth eating a taco and following that up with an ice cream cone. I wonder what her favorite flavor is? My guess is strawberry.
We all knew that Markle and Prince Harry weren't your average royal couple, but this new development might take the cake (pun intended).
The food trucks aren't the only snacks guests can expect to enjoy for the royal wedding. On April 20, Kensington Palace tweeted details about Markle and Prince Harry's wedding cake, and it sounds beyond delicious. Pastry chef, and owner of Violet Bakery, Claire Ptak is the artist behind this sure-to-be sweet masterpiece.
The tweet read,
Prince Harry and Ms. Markle have asked Claire to create a lemon elderflower cake that will incorporate the bright flavours of spring. It will be covered with buttercream and decorated with fresh flowers.
I need that in my stomach right now.
It's really not that surprising that the royal wedding will feature a huge variety of delicious food. After all, it's common knowledge that Markle is a total foodie, and enjoys cooking and entertaining for guests. In May 2016, Markle chatted with Best Health about her background with food, and that her love of cooking started at an early age. According to Markle, her father was a lighting director for television show Married With Children and she spent a lot of time on set helping with craft services for the cast. From there, she learned about plating, garnishing, and entertaining as a whole. Perhaps she'll chef something up for the wedding reception? That'd be a delicious surprise.
Believe it or not, this isn't the first time food trucks have made an appearance at a royal wedding. During Prince William and Kate Middleton's wedding in 2011, the couple had an ice cream truck instead of traditional wedding desserts. Plus, trucks featuring bacon and sausage sandwiches were available for guests to enjoy. I must say, I'm not sure if a combination like that could get more American.
Markle and Prince Harry's wedding might be one of the most anticipated events of 2018, and with good reason. Not only can guests expect delicious food offerings, but they'll be able to enjoy a full orchestra as the wedding music. On April 24, Kensington Palace tweeted more details about the orchestra, which will feature St. George's Chapel's Director of Music James Vivian along with 19-year old cello prodigy Sheku Kanneh-Mason. No big deal. A 19-year old is performing at a royal wedding and my 25-year old self literally fell out of bed this morning. It's fine, I'm fine.
May 19 truly can't get here fast enough. I can't wait to sit on my couch and eat my feelings while Meghan Markle struts down that aisle.
Here's to true love, and good food.