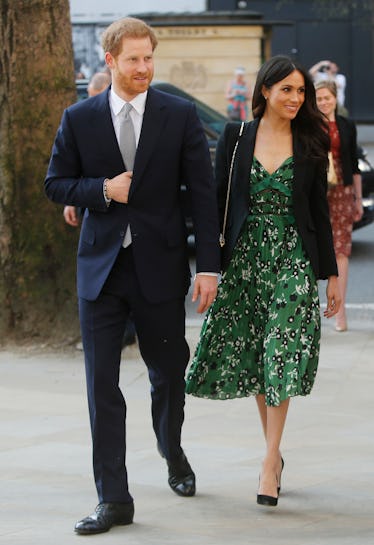 Prince Harry & Meghan Markle Picked Their Wedding Music & Here Are The Details
WPA Pool/Getty Images Entertainment/Getty Images
Break out your finest tea and crumpets, because the royal wedding is just a few short weeks away. And just like when Prince William married Kate Middleton, the world goes crazy for any little details we can get about the big day. While some things will certainly be kept a surprise (looking at you, Meghan Markle's wedding dress), Kensington Palace has blessed us with a few details here and there about what will go down on May 19. And now there's news that Prince Harry and Meghan Markle's wedding music includes a full orchestra, so get ready for their ceremony to blow everyone else's out of the water.
According to Kensington Palace, the couple played a major role in selecting their music for their ceremony, which I find to be adorable, super relatable, and, dare I say... normal? The Kensington Palace website states that "both Prince Harry and Ms. Markle have taken a great deal of interest and care in choosing the music for their Service, which will include a number of well-known hymns and choral works."
And Kensington Palace's Twitter feed gave us all the glorious details. Let's start with who will be leading this team of musicians. On April 24, Kensington Palace wrote:
The music will be under the direction of James Vivian, Director of Music, St George's Chapel, including the Choir of St George's Chapel, and a selection of choral groups, soloists, and musicians.
No pressure at all, Mr. Vivian. Just a small, simple ceremony that only a few hundred will be attending and a few million will be watching.
It wouldn't be a royal wedding if there wasn't a child prodigy playing the cello, either, so they've got that covered as well:
19-year-old cellist Sheku Kanneh-Mason, winner of 2016 @BBCYoungMus. Last June, Prince Harry saw Sheku play at an event in London in support of the work of Antiguan charity the Halo Foundation.
Imagine you're just 19-years-old and are being asked to play what will undoubtedly be the most important gig of your life? Not sure if my teenage self could handle that kind of pressure, but I was also terrible at playing instruments, so perhaps I'm not the best judge of character here.
And lastly, what's a royal ceremony without a gorgeous-sounding choir?
Karen Gibson and The Kingdom Choir. The Choir is made up of a group of British artists dedicated to creating a sound that demonstrates the community they share, and has been performing both nationally and internationally for over 20 years.
I don't know if my ears are ready for this, you guys. It might almost be too beautiful.
Just like learning about what kind of music will be at the royal wedding, Kensington Palace has also shared a few other vendors with the public.
On April 13, Kensington Palace confirmed that Alexi Lubomirski, the photographer who took their engagement photos, would be shooting Prince Harry and Meghan Markle's wedding day. In a series of tweets, Kensington Palace said:
Prince Harry and Ms. Meghan Markle have selected Alexi Lubomirski to take the official photographs at Windsor Castle following their wedding at St George's Chapel on 19th May. Alexi is a well-known portrait photographer, and photographed Prince Harry and Ms. Markle last year at Frogmore House, Windsor, to mark the news of their engagement.
I mean, their engagement photos were drop-dead gorgeous, so I can't blame them for sticking with the same photographer.
We also know that the couple have chosen London florist Philippa Craddock to work with on all-things-flowers for their wedding day. Kensington Palace released the official statement on April 1 that "The floral displays in St George's Chapel will be created using locally sourced foliage," adding that, "Where possible, Philippa will use flowers and plants that are in season and blooming naturally in May."
Could these details sound any more beautiful? Honestly, no they could not.
If you need me, I'll just be sitting on my couch in my Sunday best, waiting for the big day to finally arrive.