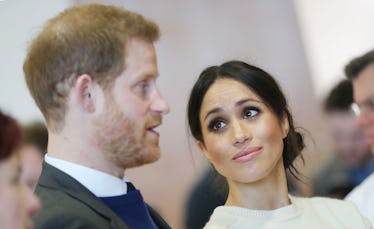 Prince Harry & Meghan Markle Have A Custom Wedding Day Scent & This Is Getting Out Of Hand
Pool/Getty Images Entertainment/Getty Images
Does anyone else feel like the royal wedding is quickly spiraling out of control? I mean, I'm all for a party, but this feels like it's become a cosmic event! Each day reveals a new, special detail about Prince Harry and Meghan Markle's impending "I Do's," and today it was announced there will be a custom scent for the celebration. Sure, Prince Harry and Meghan Markle's wedding day scent sounds like it's made out of sunshine and happily ever afters, but still. Is this really necessary?
Apparently, yes.
According to Cosmopolitan, the special fragrance will be loosely tied to Markle's current signature scent which features notes of wood and spice. The fragrance will also be custom made by luxury perfume brand, Floris London, who was in charge of creating a special scent for Prince William and Kate Middleton's wedding, too. Apparently, this variation is the sibling to an already existing unisex eau de parfum called Bergamotto Di Positano.
Allegedly, those lucky enough to smell it will catch whiffs of bergamot, orange blossom, green tea, and of course, wood and spice.
Some fans think the key flavors might be a clue to Markle's bouquet. That's because for Kate Middleton's scent, Floris included notes from her wedding blooms (lily in the valley) in her special mix. Floris named Middleton and William's scent Wedding Bouquet. (Seems a bit on the nose, don't you think?) HA! A SCENT JOKE!
Plus, the public already has an idea of the kinds of flowers that will be featured in Markle's bundles. According to Elle magazine, the wedding's florals were carefully chosen as a tribute to the late Princess Diana. Thanks to an Instagram announcement shared by Kensington Palace, fans can anticipate blooms of white garden roses, peonies, and foxgloves. Kensington wrote:
Prince Harry and Ms. Meghan Markle have chosen floral designer @philippacraddock to create the church flowers for their wedding. The displays in St George's Chapel will feature foliage from The Crown Estate and Windsor Great Park, and will use seasonal plants including branches of beech, birch and hornbeam, as well as white garden roses, peonies and foxgloves. The designs will reflect the wild and natural landscapes from which many of the plants will be drawn.The Royal Parks will also supply pollinator-friendly plants from their wildflower meadows. These plants provide a great habitat for bees and help to sustain healthy and biodiverse ecosystems.
The white garden roses are a special homage to Princess Diana and the unique White Garden at Kensington Palace. This is also the same place where Prince Harry and Meghan Markle took their first pictures together after their engagement.
Head Gardener at Kensington Palace, Sean Harkin, once explained the white rose significance to Country Living in 2017. Harkin said,
I knew we would be doing an exhibition inside the palace to mark 20 years since she died and thought we should do something in garden as well to celebrate the memory of Princess Diana actually being here.
Apparently, white was one of her favorite colors. Harkin continued,
... Diana wore a lot of white and creams. Certain pieces in the exhibition stood out like the famous Elvis dress as well as some of the photos from the Mario Testino shoot in 1997 where she wore cream. The whole feel of the exhibition, those photos and the dresses was quite radiant, and the feeling was quite uplifting, which is what we wanted the garden to be.
There's no denying it. This wedding is going to smell spectacular one way or the other. Unfortunately, the special wedding scent will live on in a private collection at Floris and probably not available for sale. BUT! Perhaps a very special regular ol' civilian version will be made available for purchase after the wedding.
Can't hurt to hope.
Check out the entire Gen Why series and other videos on Facebook and the Bustle app across Apple TV, Roku, and Amazon Fire TV.