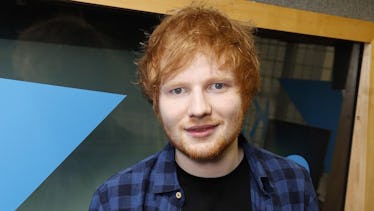 The Perfect Ed Sheeran Song For Every Stage Of Your Relationship
Getty Images
You can really learn a lot about a person based on his or her taste in music.
I'm personally drawn to slow and meaningful songs because they've guided me through difficult times in my life.
If you're like me, you probably listen to Adele and Ed Sheeran on the reg and bawl your eyes out while eating ice cream.
What? I KNOW I'M NOT ALONE ON THIS. STOP JUDGING ME. WE'VE ALL BEEN THERE.
And OMG, can we talk about how Ed Sheeran is just the cutest bundle of joy?
Did you see him at the Grammys? I basically lost my sh*t when he won Song of the Year for "Thinking Out Loud."
He just gets me. He writes about love, relationships, heartbreak and passion.
He basically sings the thoughts swirling around in my mind and makes them make sense. He understands what people are going through and is able to express those feelings through his lyrics. It's BRILLIANT.
In honor of his 25th birthday, here is the perfect Ed Sheeran song for every stage of your relationship.
Oh, I suggest you grab a box of tissues. This is going to get super emotional.
When you go on the first date: "Tenerife Sea"
This is the perfect song to capture the experience of meeting a potential soulmate for the very first time.
You look so wonderful in your dress I love your hair like that
And it even captures the intimacy of the experience.
You got the kind of look in your eyes As if no one knows anything but us
Ultimately, this song is about first impressions and taking things to the next level.
I want you to know it's enough for me 'Cause all that you are is all that I'll ever need
When you get your first kiss: "Kiss Me"
This song sums up the experience of getting kissed by someone you care about for the first time.
And your heart's against my chest, your lips pressed in my neck I'm falling for your eyes, but they don't know me yet
You're sharing this intimate moment with someone, and it's everything, but at the same time, you still don't know each other too well.
There's so much more to learn, and you're ready to dive deeper.
Kiss me like you wanna be loved You wanna be loved
When you're falling in love: "Thinking Out Loud"
And, darling, I will be loving you 'til we're 70 And, baby, my heart could still fall as hard at 23
The lyrics perfectly capture the feeling of being absolutely enamored with someone.
You spend your days together and know there's no better feeling than being trapped in each other's loving arms.
Take me into your loving arms Kiss me under the light of a thousand stars Place your head on my beating heart Thinking out loud Maybe we found love right where we are
When you commit to a relationship: "Lego House"
I'm out of touch, I'm out of love I'll pick you up when you're getting down And out of all these things I've done, I think I love you better now
Sometimes, things get hard, but no matter what happens, you both grow together. You learn from your experiences and know how to help each other become the best versions of yourselves.
You know what it takes to make this relationship work, and you're willing to let down your guards and give it everything you have.
And it's dark in a cold December, but I've got you to keep me warm If you're broken I will mend ya and keep you sheltered from the storm that's raging on, now
When things start to get confusing: "Give Me Love"
Of course, you may doubt yourself and think your partner isn't as invested as you are. You may not understand why your SO is acting a certain way. You may even feel disconnected.
Give me love like her, 'Cause lately I've been waking up alone, Paint splattered teardrops on my shirt, Told you I'd let them go
If you feel jealous, aggravated, mistreated or simply think things aren't how they used to be, this is the song for you.
Give me love like never before, 'Cause lately I've been craving more, And it's been a while but I still feel the same, Maybe I should let you go
When you get your heart broken: "Photograph"
This song is great for when you feel things aren't working out or your love is unrequited. If your heart starts breaking, perhaps these lyrics can help you heal.
Loving can hurt, loving can hurt sometimes But it's the only thing that I know When it gets hard, you know it can get hard sometimes It is the only thing that makes us feel alive
This song helps turn heartbreak into a positive learning experience. It hurts to feel pain, but what you go through only makes you stronger in the end.
We keep this love in a photograph We made these memories for ourselves Where our eyes are never closing Hearts are never broken And time's forever frozen still
Of course, when you're heartbroken, you can't help but think about your partner and look back on the memories.
You have regrets and would do anything to freeze time and go back to the moment when it all started. But unfortunately, you can't. This song will help you move forward.
When you're in a fight: "Don't"
You should definitely listen to this song the next time you're in a fight with your partner and need some time to yourself to relax and reflect.
It's OK to get angry at times, but it's also important to talk things out and communicate with each other.
Don't f*ck with my love That heart is so cold All over my home I don't wanna know that, babe
A lot of times, it can be helpful to seek the advice of a friend or family member about how to get through a fight.
This song tells its own story about relationship problems because, sometimes, all you need to do is let it out.
For a couple weeks, I Only wanna see her We drink away the days with a take-away pizza Before a text message was the only way to reach her Now she's staying at my place and loves the way I treat her
When you're going through a breakup: "I'm A Mess"
If you're going through a nasty breakup, this song feels you.
I messed up this time Late last night Drinking to suppress devotion With fingers intertwined I can't shake this feeling now We're going through the motions Hoping you'd stop
You're going to want to cry and throw sh*t and lose your damn mind. There's nothing worse than losing somebody you love. Ed understands. He has your back.
And ohhh I've only caused you pain I know but all of my words will always below Of all the love you spoke When you're on my road Walking me home
When you miss your ex: "All Of The Stars"
Oh no, we've all been here.
Whether it's someone you dated, were in love with OR EVEN SOMEONE YOU MET AT A BAR, there's always that person you miss and are constantly thinking about.
It's just another night And I'm staring at the moon I saw a shooting star And thought of you
Thinking about an ex sucks because you want to move on so badly, but you also get a tiny bit of pleasure from drowning in your sorrows.
In the end, you know everything happens for a reason, and you can't force things that aren't meant to be.
And I know these scars will bleed But both of our hearts believe All of these stars will guide us home
When you finally move on: "You Need Me, I Don't Need You"
There's nothing better than getting over your ex and realizing who you are alone is much better than who you were when you were with that person.
I sing and write my own tune and I write my own verse Hell, don't need another wordsmith to make my tune sell Call yourself a singer-writer -- you're just bluffing Your name's on the credits and you didn't write nothing
You're single, strong and don't need anybody to tell you how to live.
'Cause you need me, man, I don't need you