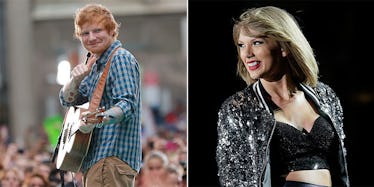 No One Was Prouder Of Ed Sheeran Than Taylor Swift At The Grammys
Getty Images
Ed Sheeran just won his second Grammy of the night for Song of the Year for his hit "Thinking Out Loud," and I think we all were super surprised at first.
I mean, while he definitely had an amazing year after he released his album, X, and certainly deserved the win, I don't think anyone expected him to beat out Taylor Swift for the award. She already won her fair share of awards, and she also had a killer year.
Plus, she's Taylor Swift. She wins everything.
In fact, Taylor herself clearly did not think her fellow nominee and very good friend would win.
However, like the angel Taylor is, the unexpected victory for Sheeran genuinely made her super happy, and her surprise quickly turned to extreme excitement.
Like, Taylor was so excited for Sheeran.
SHE WAS JUST SO. FREAKIN'. EXCITED.
SUCH A BEAUTIFUL FRIENDSHIP!!!!!! @edsheeran @taylorswift13 pic.twitter.com/jj3TwixBxY — taylor [PB] (@Taylorr_abel) February 16, 2016
I don't think I've seen anyone so proud of someone since Regina George's mom got to watch her teen daughter perform a sexy routine to "Jingle Bell Rock."
When @taylorswift13 is more excited than @edsheeran winning his own GRAMMY. MAD LOLZ. #GRAMMYs https://t.co/fDEQAsZbKx — Andrew Lovesey (@lovesey) February 16, 2016
You're not a regular friend, Taylor. You're a cool friend.
To make this night even more enjoyable for you, we have the official list of winners here and will keep it updated throughout the night. We're also live-tweeting the event on @EliteDaily and providing our thoughts on Snapchat (elitedailysnap), so be sure to follow along.