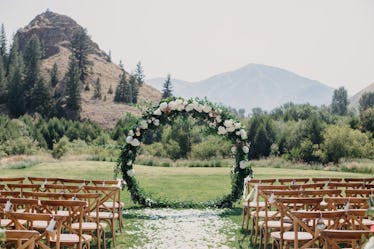 9 Country Songs You'll Want To Dance To At Your Wedding, So Take Notes
You probably know someone who is a huge country music fan. They know why George Strait is called King George, and they can sing every lyric to "The Devil Went Down To Georgia." Sure, it might not be everyone's favorite genre, but country music doesn't get enough credit. Honestly, there are some real bangers out there, including several country songs that make amazing wedding songs.
I don't know about you, but I wasn't always a big country music fan. Although I hail from the great state of Texas, and went through a Sugarland-loving phase in high school, it was never really something I actively listened to. But since I'm marrying a huge Texas-hailing country-music-loving fan, and someone who just so happens to play country music himself, I've learned to appreciate the genre for all it's worth. In fact, we recently decided that our first dance at our wedding will be to a country song, and you know what? I actually love it.
Say what you will about the whole "my girl dumped me and stole my dog and keyed my tractor" cliché, but country music can actually be super heartfelt. Honestly, the genre as a whole gives me hardcore Ed Sheeran vibes (if Ed Sheeran was from Tennessee).
If you're putting together a wedding playlist, or just want to listen to the sweetest country songs out there, then read on.