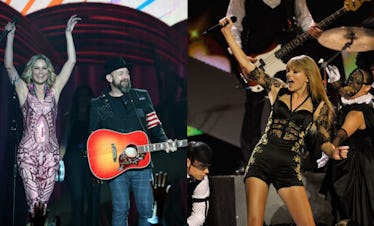 Taylor Swift & Sugarland's First Live Performance Of "Babe" Was The Most Fun Ever
Ethan Miller/Getty Images Entertainment/Getty Images/Matt Kent/Getty Images Entertainment/Getty Images
If you've ever gotten the rare opportunity to go to a Taylor Swift concert, (you're lucky AF) but you're also probably well-aware that the country-pop star has an incredible stage presence. One of her latest performances, however, was totally unforgettable, with the help of two (totally unreal) musical guests. On Saturday, Oct. 6, the "You Belong With Me" singer performed in Dallas, Texas alongside pop-country duo, Sugarland, and honestly, I can't even fathom that I missed out on it. So, if you haven't already seen this video of Taylor Swift and Sugarland performing "Babe," it defines "legendary."
I don't know how it happened, and I don't know how anyone ever deserved for this to happen, but Taylor Swift and Sugarland performing on the same stage is definitely a show for the books. The trio got down to Sugarland's original track, "Babe," and I think my ears truly went to heaven. Jennifer Nettles belted her heart out in a sequined jump suit, Kristian Bush rocked out on his guitar in a classic black fedora, and, of course, T-Swizzle was harmonizing in one of her gorgeous sequined leotards. In all honesty, all three of them looked — and sounded — like a dream come true. Even if I wasn't able to make it to the live show, this video will probably go down in history. Check it out on T-Swift's Instagram, below.
In the caption of Swift's Instagram post, the "1989" singer said the concert was "SO MUCH FUN," and based on her all-caps description of it, I'm guessing it was pretty great to actually be up there on stage with them. Personally, I can't even imagine what watching — let alone performing — there would have been like.
In the Instagram caption, Swift said:
'Babe' live for the first time tonight in Dallas!!!! THIS WAS SO MUCH FUN. @sugarland@jennifernettles@kristianbush
The singer also posted to her Instagram Story right before the show. She was discussing to Sugarland about the fact that the three of them were going to be playing the song live together for the first time.
In Swift's Instagram Story, she said:
You guys have played the song "Babe" live. I have played it live. But, the three of us have not played it live. So, this is big.
I don't know about you, but I'm literally dying of jealousy right now. If I could go back in time, I'd have paid for a ticket to this show in a heartbeat.
Unsurprisingly, it looks like fans really got a kick out of this performance too. I mean, how could they not? Check out fans' tweets about it, below.
Don't get me wrong — the "Bad Blood" singer is straight-up fantastic on her own. But, having Sugarland perform her makes for a total dream team. Sugarland has been (and still is) a legendary name in the world of pop-country, and even though Swift has somewhat gravitated away from the country music scene, she's always willing to pick it back up every once in a while. And honestly, I'm always down for that to happen.
The fact that Swift is BFFs with Sugarland should really come as no surprise, though. As you'd probably expect, T-Swizzle is actually super popular in the world of music. In a now-deleted Instagram Live video, Selena Gomez called Taylor Swift her "big sister," saying she's "amazing, awesome, and smart." Swift is ultra popular, and seeing as she's highly likable, it really isn't shocking.
Taylor Swift totally slayed the game, yet again, but this time it was alongside Sugarland. The three of them really need to play together more often. TBH, their super fun performances might just be able to make the world a better place.