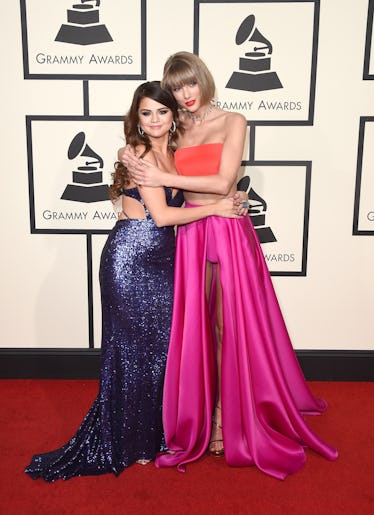 Selena Gomez Gushing About Taylor Swift Being Like A "Big Sister" To Her Is BFF Goals
Jason Merritt/Getty Images Entertainment/Getty Images
If you were to ask me to name my ultimate celebrity BFF candidates, Selena Gomez and Taylor Swift would be right there at the top of my list. Not only are these superstars mega-talented at what they do, but from their social media posts, it seems like hanging out with them would literally be the most fun ever. On Saturday, Sept. 22, Gomez shared some insight to their own friendship, and, you guys, it sounds like Selena and Tay are thick as thieves. Seriously, Selena Gomez's comments on her friendship with Taylor Swift show that these two are still an OG girl squad.
Starting out her weekend with a now-deleted Instagram Live video, Gomez took questions from inquiring fans on Saturday morning, per Cosmopolitan. Since Gomez and Swift have been long-time besties, one fan naturally asked a question about how Taylor is doing. Excited to talk about her fellow singer (and all-around boss), Gomez shared,
How's Taylor? Taylor's awesome. I love her. She's amazing. I talked to her today. She's literally like my big sister, I tell her everything. She's so smart it freaks me out.
Seeing as though Gomez managed to call Swift "awesome," "amazing," "like [her] big sister," and "so smart" in her reply, I think it's safe to say that these two have solidified their BFF status.
Would you really expect anything different from these two, though? I mean, they have totally perfected the art of being supportive AF of one another — and hearing that 28-year-old Swift is like a "big sister" to 26-year-old Gomez straight up melts my heart.
Gomez's kind words seem to be following up Swift's display of their friendship on Gomez's birthday during the summer. To celebrate her pal's big day, Swift posted a picture of a homemade cake to her Instagram Story on July 22. IDK if Swift made the cake herself — although she is a self-proclaimed fan of whipping baked goods — but her message to Gomez was sweet enough on its own. She wrote,
Will I let distance stop me from celebrating my best friend's bday?
Answering her own question in all-caps, Swift completed the birthday message with this Gomez lyric:
I MEAN I COULD BUT WHY WOULD I WANT 2
That just so happens to be the same song — "Hands To Myself" — that the pair sang together back in May when Gomez joined Swift during her Reputation Tour stop at the Rose Bowl in Pasadena, California.
I stan a pair of besties who unabashedly support each other's work. Swift and Gomez's friendship goes way back to 2008, when Gomez was dating Nick Jonas and Swift was coupled up with Joe Jonas.
10 years (and minus two Jonas Brothers) later, and this pair has even outlasted Swift's "squad" moniker that was made famous by her 2016 "Bad Blood" video that was overflowing with famous faces. Need more proof that this friendship is still going strong? Gomez previously gushed over Swift — and how much she appreciates her friendship — in December 2017 for Swift's 28th birthday.
Gomez captioned a video of the pair on IG with,
I'm glad you were born. You write all the thoughts some aren't able to articulate. (ME!) Thank you for giving a voice to this world that is authentic and inspiring. I wish some knew how big your heart actually is.. it's fierce, bold and freaking wild with light. I'm glad you protect that. Love you @taylorswift
OK, these two are officially the most supportive BFFs ever. I think I'll keep an eye out for Gomez's next Instagram Live session so I can ask the all-important question that's on everyone's mind: "How can I join the Gomez-Swift BFF squad?" Until then, I'll just keep watching that "Hands To Myself" duet.