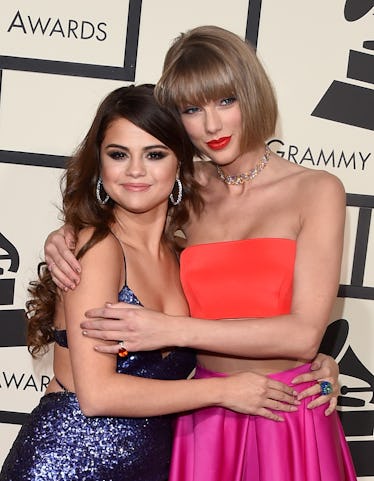 Taylor Swift Wished Selena Gomez A Happy Birthday In The Cutest Way & It's BFF Goals
Jason Merritt/Getty Images Entertainment/Getty Images
If you thought that Taylor Swift and her bestie Selena Gomez's friendship has fizzled since Swift's "squad" glory days, think again! The pop sensation, who's currently embarking on her world tour for her latest album Reputation, celebrated Gomez's birthday in the most amazing way possible on July 22 and shared it with her fans on Instagram. Taylor Swift's birthday message to Selena Gomez is seriously what best friend goals are made of and I love it so much.
For Gomez's 26th birthday on July 22, Swift decided to pay tribute to her bestie by apparently baking a homemade cake for her. I'm not sure if Swift actually made the cake herself, but judging by the picture that she posted to her Insta stories of it, it definitely looks like something one would make themselves. I mean I'd take a homemade cake over a store-bought one any day of the week — it definitely gives the treat more of a personal touch that I appreciate.
In the caption of the Insta story pic Swift writes,
Will I let distance stop me from celebrating my best friend's bday?
And then she answers her own question extremely enthusiastically (in all caps) and says,
I MEAN I COULD BUT WHY WOULD I WANT 2
The cake was embossed with an annoyingly (but hilarious) punny message that says "Gomez Or Go Home." Well played, TSwift — consider me impressed with your play on words. And what a perfect way to celebrate Gomez's day of birth, even though they're probably currently thousands of miles apart.
Ever since Swift's infamous "girl squad" seemed to start to slowly fall apart at the start of 2017, the question of whether or not Gomez and Swift remain best friends was on everyone's minds. When Gomez first began dating The Weeknd (aka Abel Tesfaye), who had recently broken up with fellow Swift squad member Bella Hadid, that's when the question of whether or not Gomez and Swift remained as close as they once were started popping up.
If Gomez's relationship actually caused a rift between her and Swift, clearly it's not affecting their relationship in any negative way now. Gomez and The Weeknd called it quits back in October 2017, so clearly the past is the past. Since then, Gomez and Swift have proven time and time again (through various social media posts) that they're truly best friends forever.
Gomez also shared a birthday message for her bestie back in December 2017 when Swift turned 28 years old. She shared a throwback video of the two of them to her Instagram with a super sweet birthday message. In the post Gomez wrote,
I'm glad you were born. You write all the thoughts some aren't able to articulate. (ME!) Thank you for giving a voice to this world that is authentic and inspiring. I wish some knew how big your heart actually is.. it's fierce, bold and freaking wild with light. I'm glad you protect that. Love you @taylorswift
I can tell by these posts and the love that Gomez and Swift give to one another that this is a friendship that will last a lifetime. These two are the epitome of best friend goals, and I honestly can't get enough of it.