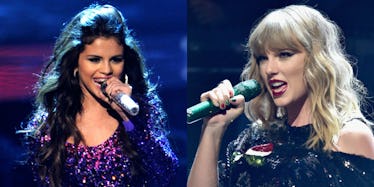 Selena Gomez Joined Taylor Swift At Her Rose Bowl Concert & The Video Is Everything
Gareth Cattermole/Getty Images Entertainment/Getty Images/Theo Wargo/Getty Images Entertainment/Getty Images
Taylor Swift's Reputation Stadium Tour is in full swing now, and the superstar wowed her fans during her show in Pasadena, California, on Saturday, May 19. Swift also gave concertgoers a fun surprise when she brought a special guest out on stage. The video of Selena Gomez and Taylor Swift performing at the Rose Bowl is so good, and the two friends totally crushed it.
Swift seems to love surprising her concert crowds by bringing her famous friends on stage. From the looks of the video featuring Swift and Gomez singing together on Saturday night, the crowd in Pasadena was very much here for this on-stage collaboration. Swift shared a video on her Instagram page of the pair performing Gomez's hit song, "Hands To Myself." The video shared by Swift on Sunday morning showed Gomez and Swift singing and enjoying their time together on stage.
I don't think the two superstars could look like they were having more fun if they tried. Both of them donned black, sparkly getups, and they belted out the song while smiling and jumping around. Swift seemed to have a blast as she sang the line in the last bridge of the song, "I mean, I could but why would I want to?" (which also happened to be the caption of the video).
Swift also posted some videos to her Instagram Story on Sunday morning, and it turns out that the song choice was an easy one for Swift. In a video on her Story, Swift filmed her and Gomez walking around the Rose Bowl ahead of showtime, and Swift announced, "We're gonna go sing 'Hands To Myself,' which is absolutely iconic." Gomez then sweetly added in the video, "Yes, Taylor loves that one, and I love her for loving it." Before Gomez could even finish saying that, though, Swift piped in and exclaimed, "It's my favorite song!"
Seriously, these two were pretty much just exemplifying BFF goals in all the videos on Swift's Story.
For fans who didn't get to see the live performance, Swift posted another video on her Story of the besties singing and having the best time ever on stage at the Rose Bowl. Beware, the FOMO is real when you see photos of these two on stage.
Swift also shared a heartfelt Instagram post on Sunday morning where she thanked Gomez for coming out to the show and performing with her. Swift wrote,
To the person I could call at any time of day, who has been there no matter what... you absolutely KILLED IT tonight and everyone was so excited to see you. I love you, and 60,000 people at the Rose Bowl loved you too.
OK, can these two besties get any cuter? You might not think so, but just wait until you hear how Swift introduced Gomez to the Rose Bowl crowd on Saturday night. According to a video of the concert posted on Twitter, Swift said of Gomez, "...this is one of the realest and the truest of the friends that I've ever had in my entire life."
You might think Gomez and Swift performing together is enough of a surprise for one show, but that didn't stop Swift from wowing Pasadena with another special guest, Troye Sivan. Per Swift's Sunday morning Instagram Story, Sivan joined her on stage to sing his song, "My My My!"
Swift and Gomez and Sivan, oh my! Surely that was enough star power for one show, right? Nope. It's unclear whether these next stars joined Swift on stage or just took in the show from the seats, but Swift shared a celeb-filled photo on her Instagram Story on Sunday morning with emoji hearts peppered throughout a caption that read, "Rebel Amber Julia."
The famous faces in the picture appear to be none other than Rebel Wilson, Amber Rose, and Julia Roberts. Swift sure knows how to bring some unlikely pals together.
Rose's attendance at a Swift concert might be a little surprising. You'll recall that Rose was dating Kanye West in 2009 when West rushed the stage during Swift's acceptance speech for Best Female Video. Rose's son, though, is apparently a huge Swift fan. Per People, Swift gifted Rose's son with Wiz Khalifa, Sebastian Taylor, tickets to her tour.
Rose thanked Swift back in March when she got the tickets. Former feuds or not, it's clear that Swift loves a celebrity cameo — so keep your eyes peeled for all the stars during her summer Reputation tour.