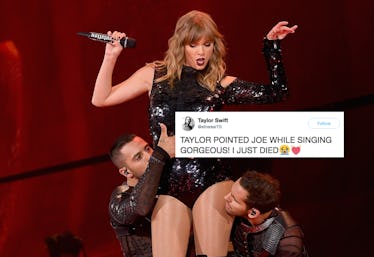 Taylor Swift Sang To Joe Alwyn During Her Concert & Twitter Couldn't Handle It
Taylor Swift's Reputation Tour had its opening night in Glendale, Arizona on Tuesday, May 8, and if you were on Twitter for even half of a second today, you probably saw some of the fan reactions to the performance. Some of the biggest things fans were talking about following the concert was the fact that she sang "All Too Well" (a fan and critic favorite) and "Gorgeous," a song about her longtime boyfriend, actor Joe Alwyn. What's more, he was in the audience at Glendale, and Taylor Swift sang to Joe Alwyn during her concert. No, Swift's fans on Twitter could not handle it at all.
According to fans who were at the concert, Alwyn was in the audience casually sipping a drink and wearing a baseball hat while Swift performed "Gorgeous." Us Weekly reports he was standing with family and friends of Swift's, and lots of fans at the concert caught him on video to prove he was there. At the end of "Gorgeous," fan videos show Swift pointing seemingly right at Alwyn and the crowd could handle none of it. Sure, Alwyn looked pretty blasé on the outside, but the guy has never been one to try and attract attention, so he was no doubt enjoying the performance on the inside. He was reportedly seen taking pictures of Swift while she performed like a proud BF.
Whatever he was feeling, Swifties at the show (and those who weren't there but reacted to the moment on Twitter afterward) clearly love these two.
Fans also trolled Alwyn a bit for his resting lack of emotion face while watching Swift perform.
"Gorgeous" was one the singles Swift released before dropping Reputation in its entirety. There's no music video for it yet, but there is a lyric video.
Most of the romantic songs on the album are reportedly about Alwyn. The first verse of "Gorgeous" makes that pretty clear when Swift sings, "You should take it as a compliment that I got drunk and made fun of the way you talk." Alwyn is British, so she probably was teasing his British accent in that reference. In the chorus, Swift sings,
You're so gorgeous / I can't say anything to your face / 'Cause look at your face / And I'm so furious / At you for making me feel this way / But, what can I say? / You're gorgeous
Those are the lines the song also ends on. When she finished singing them, Swift seemed to point right at her boyfriend, and lots of phone cameras quickly swerved to get Alwyn's reaction.
A source told Us Weekly back in December that things are so serious between Swift and Alwyn, she think's he's the one. "[Taylor's] gonna be on tour soon and Joe will be there and she realized there's no point in not living her life," the source said, continuing,
All her friends know about their relationship anyway. She feels confident in their relationship and Joe really loves her. She really thinks he might be the one. She loves that he is confident and has his own career. She also likes that he doesn't seek attention and is low-key.
Another source told Us Weekly, "Taylor really believes Joe is the one for her. She wants to get engaged to him. She just doesn't feel as though she has to impress anyone at this point."
The only information Swift has revealed about her relationship with Alwyn has been through her songs on Reputation. Fans across the board believe "Delicate," "Gorgeous," "Call It What You Want," "King of my Heart," "Dress," and "Don't Blame Me" from Reputation are all about Joe Alwyn, as well as "New Year's Day," which made fans think the couple got engaged. The song is romantic AF, so those theories came as no surprise, but despite how ~gorgeous~ Swift and Alwyn's relationship may be, there are so far no substantial clues that the couple is engaged.