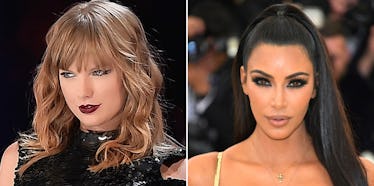 Taylor Swift Threw Massive Shade At Kim Kardashian During Her Concert & Yikes
Kevin Winter/Neilson Barnard/Getty Images
Taylor Swift's Reputation Tour kicked off in Glendale, Arizona, on Tuesday, May 8, and fans of the singer are so pumped to have her back and performing. Reputation is all about, well, Taylor Swift's reputation, so some people might've wondered if she was going to address all the beef she's had with celebrities during the show. Katy Perry literally sent her an olive branch before the first show started, so that feud is settled, but Swift addressed other beef during her show. And Taylor Swift's shade towards Kim Kardashian at her Reputation concert is, well, I'll let you decide for yourself.
Swift was sitting at a piano on stage when she started talking to the audience about the fight between her, Kim Kardashian, and Kanye West that led to Swift being labeled a snake by Kardashian stans. She reclaimed the snake and used it as a means of empowerment as well as Reputation's biggest symbol, and she pulled out all of the stops when it came to incorporating the snakes into her stadium tour. (She literally has a giant snake that comes on during the "Look What You Made Me Do" part of the night, as well as a snake microphone.) While she never addressed Kardashian and West by name, her intentions were clear. Swift said to her audience, "A couple of years ago, someone called me a snake on social media and it caught on." She continued,
And then a lot of people were calling me a lot of names on social media. And I went through some really low times for a while because of it. I went through some times when I didn't know if I was gonna get to do this anymore and I guess the snakes… I wanted to send a message to you guys that if someone uses name calling to bully you on social media and even if a lot of people jump on board with it, that doesn't have to beat you. It can strengthen you instead.
I get that Swift was trying to inspire her fans. I do. But name calling just seems like the smallest deal in the damn world to me. Granted, I don't know what it feels like to be called a snake by thousands of people online, so I imagine that can be hurtful in excess and leave a mark. I just don't have time for people who can look at the way the world is today and be like, "You know what hurts the most? Name calling."
Fans of Swift loved the moment though and thought it was a powerful part of the concert.
Swift has been teasing the details of the Reputation Tour leading up to its opening night. On her Instagram story, she revealed she will be singing 10 of her old songs in every Reputation Tour show. They'll probably be the same ones every time, but she might change things up every now and again. "There will be 10 songs from previous albums," she said. "I'm really excited about playing stuff from Reputation, and really excited about playing songs from previous albums too."
Fans were dying to know which old songs she would choose and they absolutely lost it when one of them ended up being "All Too Well."
Swift's "All Too Well" is from her Red album and is considered to be one of her best songs ever (if not the best) by fans and critics alike. According to a fan who was at the concert and tweeted about the experience, Swift said she chose to add "All Too Well" to the set list because fans kept asking her to. Swift reportedly said, "Every time I go online and read your posts or blogs or whatever, there's always ONE song you keep requesting me to play so much even though it was never a single. And since we have a really great crowd here..."
Other old Swift songs in the set list reportedly include a "Love Story" and "You Belong With Me" mashup, "Shake It Off," "Blank Space," and "Bad Blood," according to a fan who was at the concert.
"Look What You Made Me Do" is of course part of the set list, and she naturally has a giant snake and a tilted stage with her while she sings it.
And according to videos from the concert, Tiffany Haddish (in a pre-recorded video) recited the "old Taylor can't come to the phone right now" line. There are rumors Swift has a different celebrity recording of that line for each concert. Brace yourselves, people. The Reputation Tour is here.