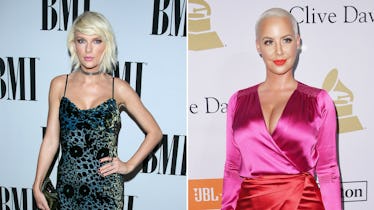 Taylor Swift Sent Amber Rose & Her Son Tickets To Her Show & Fans Are Here For It
Mark Davis/Kevork Djansezian/Getty Images Entertainment/Getty Images
Do you remember being so excited for your birthday when you were younger? Birthdays meant receiving new toys and maybe a $20 bill in your card (score!). Apparently, the birthday gift game has changed. A LOT. Well, maybe not for us regular folk, but most definitely for children of celebrities. That's because Taylor Swift sent Amber Rose and her son tickets to her show, and honestly, why was I not born into fame? Life is so unfair. But regardless, Amber's son, Sebastian, is beyond adorable and fans are totally loving his reaction to the gift from the pop star.
Amber made sure to film the whole thing, and I'm so glad she did. In the video, we see Sebastian holding a ~fancy~ VIP box covered with Taylor Swift's Reputation album photo. Honestly, I would have just been happy if someone gave me that box completely empty. It's a dope box.
But Amber gives the box (totally filled with things) to Sebastian, and in the video, you hear her say, "I have a surprise for you. Ready? Look at that — Taylor Swift sent that to you." Sebastian adorably replies, "Really? For real?"
FOR REAL, Sebastian, you lucky, lucky kid.
After a small box-opening malfunction, Amber comes to the rescue and helps her son with the box, telling him that inside, there are tickets to go see Taylor Swift in concert, along with a personal note from Taylor herself.
"Oh my God, she sent me a letter!" Sebastian says, and I really don't know how much more adorable he can even get. He also says, "It says A-M-B-E-R!" To which Amber laughed, saying, "That's your mommy's name!"
What did we do to deserve all of this pure joy?
You have to watch the video below, because it is cuteness overload:
Oh, and if you want to melt into a puddle of happiness, I suggest you watch the second part of the video, where Sebastian says, "Thanks, Taylor!"
I need to meet this kid and give him a hug. And maybe ask if he has a spare Taylor Swift concert ticket.
Of course after seeing this video, fans immediately took to Twitter to A) talk about how adorable Sebastian is and B) TALK ABOUT HOW ADORABLE SEBASTIAN IS:
Others were just emphasizing the sheer amazingness of Taylor Swift, because gifting concert tickets to a kid is actual #goals:
Taylor, can you spare a few tickets for your fans? Asking for a friend.
A few fans thought that Swift's gift was less sweet and more shade, considering that Amber Rose is Kanye West's ex. You know, that guy married to Kim Kardashian who is not on the best of terms with T-Swift?
It's not that far of a stretch to think, considering there are a handful of Kim Kardashian and Taylor Swift moments (like when Kim sent KKW Kimoji perfume to her haters — including Swift — for Valentine's Day, never forget) that show that there is definitely some shady history between the two. Would Taylor really send Kanye's ex-girlfriend's son tickets as a form of throwing shade at him and Kim K? We might not ever really know.
But you know what? I think we should drop it, because it's clear that Sebastian is beyond happy to go see Taylor Swift with his mom, and that should be the end of it. Let him live, people!
Sebastian: You go have fun at that Taylor Swift concert with your mom. And again, if you realize that the VIP box that you were gifted contains a spare ticket, just let me know and I'll totally take care of it for you.