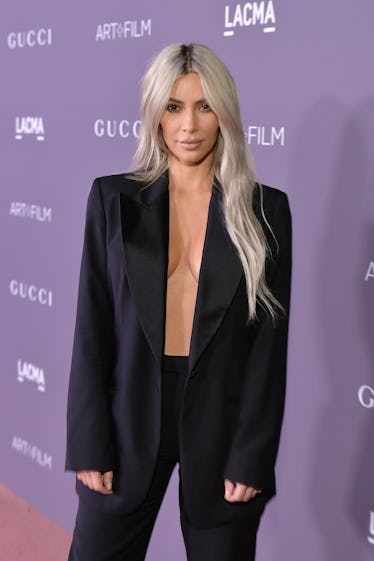 Kim Kardashian Shared The Real Reason She Sent Her Haters Valentines & I'm Screaming
Neilson Barnard/Getty Images Entertainment/Getty Images
Valentine's Day may seem like it was about a billion years ago, but TBH, I still haven't recovered from not being on the receiving end of one of those dope perfume press boxes Kim Kardashian sent out. Because ever since the first time I saw Khloé smash into one of the solid chocolate hearts with a custom "KKW" mallet to reveal one of the new Kimoji fragrances hidden inside, I started obsessing over the idea of getting my hands on one. Never happened, and obviously, I'm far from over it. I mean, even Keeks' enemies scored these bomb packages! But now we finally know Kim Kardashian's reason for sending valentines to her haters — and it is SO not what I was expecting!
In case you don't remember what happened, lemme get you up to speed real quick. Kim dropped her limited edition perfumes right around Valentine's Day. They came in three scents shaped to look conversation candy hearts — "Bae," "BFF," and "Ride or Die" — and she showed her fans exactly who she was planning to gift them to via a video on Snapchat of a big table accessorized with handwritten Post-Its that featured the names of various A-listers. Such a great idea, right?
There were members of the Kar-Jenner girl squad like Chrissy Teigen, Jen Atkin, and Paris Hilton, plus mom Kris and sisters Kendall and Kylie. But the list didn't end there. Lots of Kim's adversaries made the colorful register, too. "I decided this Valentine's Day everyone deserves a Valentine," the Keeping Up With The Kardashians star explained in the video. "So, I'm gonna send one to my lovers, my haters, to everyone I can think of, because it's Valentine's Day after all."
Check it out:
Way to take the high road, Kimmie! So just who, exactly, made the naughty list? It was basically composed of all the people the reality star has gotten into feuds with in the past — the ones who've critiqued her for things like posting nude selfies and covering magazines in various stages of undress. In other words, the list included celebs like Taylor Swift, Blac Chyna, Wendy Williams, Chloë Grace Moretz, Chelsea Handler, Sharon Osbourne, Pink, Bette Midler, Piers Morgan, Sarah Michelle Gellar, Naya Rivera, and Janice Dickinson.
We never got much of an explanation at the time as to why, exactly, Kim decided to send presents to people who have publicly dissed her. But now, KKW has taken to her website to finally give us all the inside scoop in a post called "How I Deal With Haters."
"When people say negative things about me, I try to take the high road most of the time," she wrote. "I always ask the questions: Will this affect me in a week? In a month? In a year? And usually the answer is no. But if it's something that really bothers me, I'll respond. When I had my KKW Fragrance launch, I sent some of my haters the new perfumes. It was my way of saying they can talk shit about me if they want, but I'm going to keep doing me."
YASS, QUEEN! I kind of love that Kim has reached the stage of life where she totally DGAF, you know? Haters are always gonna hate, but this reality star has zero plans to let their negative words hold her back.
"My advice for anyone dealing with haters is to just keep pushing through," she explained in her post. "If you let people bring you down, it's harder to focus on your goals. Just do you and don't give in to the negativity."
Sage advice from the best. Love you, girl!