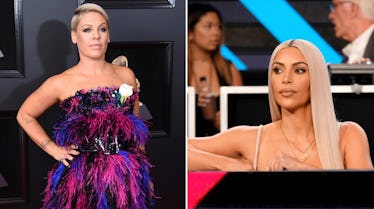 You Probably Forgot About Kim Kardashian's Feuds With These Celebs, But They're Real AF
Kevin Mazur/One Voice: Somos Live!/Getty Images, Dimitrios Kambouris/Getty Images
Valentine's Day is almost here, and if you're anything like me, there's only one thing you're hoping to score, and it's one of those heart-shaped press packages for Kim Kardashian's new KKW fragrances. If you haven't seen these things yet, then you're clearly not following Keeks on Snapchat, where's she's been busy posting videos of the boxes, along with colorful Post-Its scrawled with the names of all the haters she's planning to send them to. And yes, Lindsey Lohan, Taylor Swift, and Blac Chyna all made the cut. Because duh. Here are ten Kim Kardashian celebrity feuds you probably forgot about, though— I know I did, until Kardashian so graciously reminded me.
Kardashian posted a shot of her table decorated in a tri-colored list of names for her Valentines, and at first glance, everything seems pretty cool. Look — There's Chrissy Teigen! And Jen Atkin! And Kylie! And Kendall! But upon closer inspection, it's quite obvious that something strange is afoot. I mean, what the hell is Piers Morgen doing on there? And Bette Midler? And Wendy freaking Williams? Is Kim really planning to send Valentines to all of her enemies? The answer, apparently, is yes — and not gonna lie, I am so here for it!
In case it's not immediately clear, Kardashian's haters names seem to be listed on the blue Post-Its. And TBH, there are A LOT of them. And while some of these are obvious — oh hai, T. Swizzle! — I totally forgot about most of these conflicts, so let's recap! Here we go then, in no particular order — except, you know, the way Kim chose to write them down and stick them to her table.
1. Sarah Michelle Gellar
Back in 2014, when Kardashian and husband Kanye West covered the April issue of Vogue, Gellar didn't hold back how she felt about it on Twitter. "Well......I guess I'm canceling my Vogue subscription," she wrote. "Who is with me???"
2. Janice Dickinson
The former model also went off on Kimye's Vogue cover. "Kim Kardashian made the cover of Vogue, which made me want to vomit," she told Us Weekly. "It was crazy. They're not models! They're reality TV stars! You know, modeling is extremely hard work, you have to have perfect proportions. The Kardashians do not have couture proportion."
3. Chloë Grace Moretz
After Kardashian posted a naked mirror selfie on Instagram back in 2016, the If I Stay star had lots to say about it on Twitter: "I truly hope you realize how important setting goals are for young women, teaching them we have so much more to offer than just our bodies," she wrote. Kardashian then fired back with "let's all welcome @ChloeGMoretz to twitter, since no one knows who she is."
4. Pink
Pink's Kardashian diss may have been a little more subtle than the others, but the singer still gave the reality star an earful. "Shout out to all of the women, across the world, using their brains, their strength, their work ethic, their talent, their 'magic' that they were born with, that only they possess," she wrote on Twitter back in 2016 in the midst of Kim K's Selfiegate. "It may not ever bring you as much 'attention' or bank notes as using your body, your sex, your tits and asses, but women like you don't need that kind of 'attention.'"
5. Bette Midler
Somehow, even Bette Midler ended up in the mix. "Kim Kardashian tweeted a nude selfie today," the Beaches star tweeted. "If Kim wants us to see a part of her we've never seen, she's gonna have to swallow the camera." "
"Hey @BetteMidler," Kim shot back. "I know it's past your bedtime but if you're still up and reading this send nudes #justkidding."
6. Chelsea Handler
The former Chelsea Lately host was a friend to the Kardashian fam once upon a time. Then she went and blamed them in Variety for Donald Trump winning the presidential election. "We've turned into a reality show," she said. "I blame the Kardashians, personally; the beginning of the end was the Kardashians."
7. Piers Morgan
Morgan is another person who went after Kardashian for that nude mirror selfie back in 2016, and he was at it again just last week, after Kardashian's massive Instagram post-fest that featured her body in various stages of undress. "Oh put them away, for goodness sake," he tweeted.
8. Naya Rivera
After Kardashian broke the internet with her infamous au naturel Paper Magazine cover, the former Glee star called her out on Instagram. "I normally don't," she wrote. "But... you're someone's mother..."
9. Wendy Williams
Wendy Williams entered the fray fairly recently, but ICYMI, the talk show host went off on Kardashian big time last week for her recent burst of NSFW posts on Instagram. "Kim, you know what? It's clear that Kanye has nothing for you except dribble and feeble conversation," she said at the top of her "Hot Topics" segment. "It is clear that Kanye does not pay attention to you. It's clear to me that you're desperately trying to stay in the spotlight."
10. Sharon Osbourne
And finally, there's the matriarch of that other reality TV family, who went off Kardashian in September 2017. "If Kim wants to show off her body, fine," she said. "But that's not feminism, that's being a h*e. And there's nothing wrong with being a h*e, but always remember what you are."
Harsh. Kardashian is obviously taking the high road, but looking back at these feuds makes you realize just how much hate Kardashian gets on the daily. Way to stay above it, Kim.