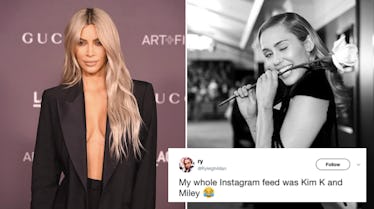 Miley Cyrus Pulled A Kim K & Did A Sexy Photo Shoot & Fans Are Obsessed
Kevin Winter/Getty Images Entertainment/Getty Images, Christopher Polk/Getty Images Entertainment/Getty Images
After classing it up at the Grammys last weekend in her long, princess-y, ruby red Zac Posen gown, Miley Cyrus is back to business as usual on social media. The pop star formerly known as Hannah Montana treated us all to several pictures of herself in a super-short, sparkly, silver romper paired with matching thigh-high boots yesterday. And if her posts seem sort of familiar, it's because Miley Cyrus' Instagram photos look just like Kim Kardashian's — and I have to admit I am totally into it!
Look, I love the fact that Miley went all fancy and demure when she hit the stage at the 2018 Grammy Awards for her "Tiny Dancer" duet with Sir Elton John. But I'm not gonna lie, I kept waiting for her to bust out a little of the Bangerz-era Miley — you know, the one who has a thing for twerking and sticking her tongue out? Didn't happen, and it was kind of a letdown. So when my feed started filling up with saucy pics of the pop star on Jan. 30, I have to admit, I was pretty psyched.
Kicking her new conservative style to the curb, the 25-year-old "Malibu" singer vamped it up for the camera in a bunch of super-seductive poses.
Check it out:
"Backstage 'I'm Still Standing'," she captioned the first two pics, taken backstage at the Elton John Tribute. Then she added on the hashtag #BitchIsBack — a reference to John's massive 1974 hit song — because of course she did!
The posts are pretty much straight fire. And because they came right on the heels of Kim K's own massive two-day, almost-naked Instagram post fest, fans over on Twitter couldn't help but lump the two stars together.
"My whole Instagram feed was Kim K and Miley," wrote one tweeter.
"Just gonna deactivate my insta cause kim k and miley cyrus are making me melt," added another.
And from a third: "Kim k and Miley really out for blood lately #killinit."
Preach it, Jennae! Of course, because this is the Internet we're talking about here, some tweeters felt the need to pit the two women against each other, even though both of them basically slayed our timelines.
"Miley >>> Kim K," wrote one.
"Miley cyrus's photos she posted are 800xs better than kim k's bye," added another.
So do I agree with this analysis? Miley's posts definitely have more of a playful "I'm in on the joke" vibe. Kim's posts — in case you missed them, and in which case who even are you? — seem a little more... well, thirsty and extra. The reality star caused a major uproar earlier this week when she blew up our Instagram feeds with images of herself in various states of undress, including one grainy shot in which her full boob was out.
Oh, Kim. I get that you are totally feeling yourself these days, but are you really that bored while Chicago is napping?
Meanwhile, while the Internet was busy slamming the Keeping Up With The Kardashians star for the topless pic, Kim's sister Khloé took to Twitter in her defense, sending out two tweets on Jan, 29. "I am squealing like a little pig looking at all of Kimberly's Instagram's from the day," she wrote in the first. "Oh my God is she not sooooooo on fire right now? FEELING THE FANTASY."
"Between her pictures and her clap backs.... I'm just living for it all," she added in the second tweet. "Confidence looks great on you Keeks."
New life goal: Love yourself as much as Kim loves Kim and Miley loves Miley, and get yourself a sister who has your back like Khloé has Kim's.