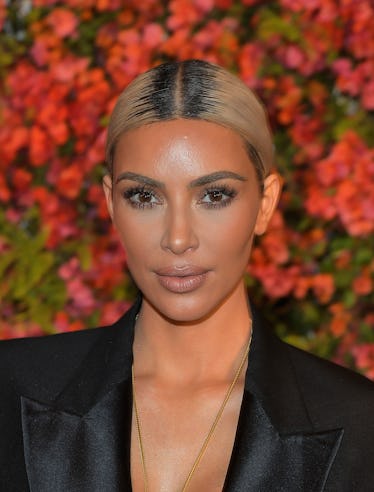 Kim Kardashian Posed Completely Topless & Fans Are Going Nuts
Charley Gallay/Getty Images Entertainment/Getty Images
Kim Kardashian is out to break the internet again. The starlet took to Twitter to share a photo of herself — completely topless. The photo started generating thousands of retweets in a matter of minutes, and people already cannot stop talking about it. Kim Kardashian's topless photo on Twitter has fans so, so shook.
It seemed like a typical Monday evening on Jan. 29, but then Kim Kardashian decided to make Twitter explode. In the vintage looking photo, Kim is standing front-and-center in a lush fur jacket (faux fur, hopefully) and white thong. Kardashian does look like she tried to minimally blur her nipple slightly, but there is not much left to the imagination.
These photos must have been taken somewhat recently because Kardashian still has her braids in. Kardashian debuted this new look recently, and saw backlash from fans.
The biggest issue came when she said on Snapchat, "So guys, I did Bo Derek braids and I'm really into it." The proper name for her hairstyle is cornrows. Kardashian added beads to the ends of hers, which is actually pretty common. Although cornrows have been a popular hairstyle in the African American community for decades, Kardashian chose to credit model Bo Derek for her look in the 1979 movie 10. In the film, the model wore long, blonde cornrows and did a lot of running on a beach.
In fact, the youngest sister in the family, Kylie Jenner, also received backlash for her braids in 2015. Side note: Whatever you think is a first for any Kardashian-Jenner, Kylie probably did it first. At that time, Derek actually weighed in on the conversation about cornrows by calling it "stupid" and insisting it's just a hairstyle. She said,
No, seriously, of all the important racial and cultural issues we have right now, people are going to focus on a hairstyle? No, no. I'll save my efforts toward important racial and cultural issues.
Whether you agree with Derek or not, I do think it's important to have a respectful and open dialogue about topics such as these.
In addition to showing off her new hair, Kardashian is definitely here to show off her new white undies. The starlet posted a few racy pictures lately on social media. Honestly, Kardashian always looks fabulous and has the right to own her body and what she does with it. #Freethenipple.
It looks like Kardashian has been feeling herself with a polaroid camera recently. On Jan. 29, during her photo posting spree, she shared a picture of herself lying on the beach with the caption, "Straight from the polaroid."
Kardashian tagged photographer Marcus Hyde — a Los Angeles based shutterbug whose Twitter bio reads, "some guy who takes photos." In fact, Hyde has a whole online store that sells a few items, including disposable cameras.
We all know Kardashian loves a good "vibe," so polaroids must be her new one. Besides her vibe, Kardashian DGAF what anyone thinks about her. She's made it clear on multiple occasions that she doesn't mind being the butt of the joke. The latest example came on Jan. 21 after an episode of Keeping Up With The Kardashians. A fan took to Twitter to throw a little shade at Kardashian by calling her "self absorbed." The entire tweet read,
Is it me, or is @KimKardashian Sooo Self-absorbed.. even when she's saying Nothing.. lol.. & I Like the Kardashians #KUWTK
There's no denying that the tweet was a little harsh, and it would be tough to read someone's opinion about you in such a public way (or millions of opinions in Kardashian's case). However, Kardashian took the whole thing in stride and had the most hilarious response. She said,
No it's not you, I totally am!
This self-deprecating response definitely earned her even more love from fans. If you have been a follower of Kardashian's for a while, you know the only thing that truly matters to Kimmy K is her fam.
All in all, Kardashian can post topless pics, clapbacks, or funny one-liners on social media — we're just going to keep loving her.
Check out the entire Gen Why series and other videos on Facebook and the Bustle app across Apple TV, Roku, and Amazon Fire TV.