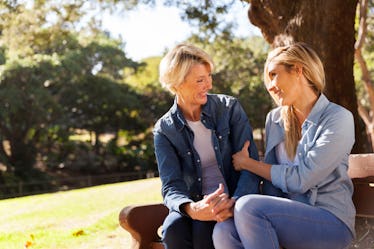 13 Lyrics For Mother's Day Instagrams That Perfectly Describe Your Feels
Shutterstock
Moms are the greatest gift. They do so much for us on the regular, and will continue to show their unconditional love. The very least you could do in return is show how much you care by dedicating a sweet Instagram post to your mom, paired with the right lyrics for Mother's Day for your caption.
Whenever you're experiencing writer's block, a great way to express yourself is through music. You know those moments when a song comes on the radio, and it feels like it was written just for you. It's those times when the lyrics perfectly capture how you're feeling that you want to immediately share them with the world.
Well, on Mother's Day, feel free to pose any of these 13 lyrics about moms ASAP. While a punny caption is always a solid choice for LOLs, you'd rather have an endearing one to go along with the adorable selfie or throwback pic you want to post on the 'Gram of you and your mom. The best part about using lyrics for Instagram captions is that all the work has been done for you. Your only job is to pair the perfect words with the cutest pic, and you're set. Then, you can get right back to enjoying brunch or FaceTime-ing with your favorite person in the world.
1. "Her love's 'til the end, she's my best friend. Ain't nobody got a mom like mine." — Meghan Trainor, "Mom"
2. "See you're unbreakable, unmistakable, highly capable lady that's makin' a loot." — Kanye West, "Hey Mama"
3. "I love you for giving me your eyes. For staying back and watching me shine. And, I didn't know if you knew, so I'm taking this chance to say that I had the best day with you today." — Taylor Swift, "The Best Day"
4. "There ought to be a hall of fame for mamas. Creation's most unique and precious pearls." — Glen Campbell and Steve Wariner, "Hand That Rocks The Cradle"
5. "You taught me to run, you taught me to fly. Helped me to free the me inside. Helped me hear the music of my heart." — Gloria Estefan and *NSYNC, "Music of My Heart"
6. "Mama said there'll be days like this, there'll be days like this, my mama said." — The Shirelles, "Mama Said"
7. "Where you lead, I will follow anywhere that you tell me to. If you need, you need me to be with you, I will follow where you lead." — Carole King, "Where You Lead"
8. "Oh mama, I appreciate you. Although my shadow's gone, I will never leave you." — 2Pac, "Dear Mama"
9. "You knew that I was gonna be something." — Drake, "Look What You've Done"
10. "She's the sky that holds the clouds. She's the lady of our house. We all need her, but no one more than me." — The Band Perry, "Mother Like Mine"
11. "I only love my bed and my momma, I'm sorry." — Drake, "God's Plan"
12. "Mamma mia, does it show again. My my, just how much I've missed you." — ABBA, "Mamma Mia"
13. "I got it from my mama." — will.i.am, "I Got It From My Mama"
This article was originally published on